The best camping gadgets for men in 2021!
Finding unique camping gifts means you'll never give another flannel shirt again!
Need presents for men who like to hike, fish, hunt, shoot, drink, eat or just relax while camping?
You are in the right place to find the perfect camping gifts for him!
My husband created this outrageously unique list, and soon you'll see why one of his favorite sayings is "You just don't know what you can't live without!" 
Psst we're compensated…see our disclosures.
Hammock With Attached Carrying And Accessory Bag
Easy Access to Drinks, Magazines, Phones
2021 Unusual Camping Gifts For Guys
This is a fun list of outdoor gifts for him … even if he thinks he has every cool camping gadget ever made … but he doesn't!
---
Men's Camping Gift Idea Categories
We've made your shopping easier, by grouping these awesome men's camping gift ideas into 11 categories. You can just leisurely scroll through this post or quickly jump to a specific group if you are looking for something specific.
Activities And Gear Camping Gifts For Him
Unique Drinking Gifts For Camping Men
Best Camping Gifts For His Camp Kitchen
Unique Electronic Camping Gadget Gift Ideas
Camp Gifts For His Vehicle
Safety, Security And Tactical Gear Camping Gifts For Him
Personal Grooming And First Aid Camping Gifts For Men
Anti-Bug Gifts For Camping Men
Campfire Starter Gifts For Campers
Men's Wearable Unique Camping Gifts
DIY Camping Gift Ideas
---
Activities And Gear Camping Gifts For Him
---
1. High Power Prism Vision Monocular

High Power Prism Monocular
There are not too many camping gift ideas that fit the bill for a wide range of camping activities like hunting, birding, wildlife spotting and hiking, but this High Power Prism Vision Monocular is one of them.
Its supportive phone mount is compatible with almost all smartphone models.
Your camping guy will be able to zoom in and record a daytime video with its 12X magnification and a 50mm objective wide lens is designed to provide a sharp view.
&
---
2. Dog Backpack
Hiking is one of the most popular activities to do while camping. Guys who like hitting the trail with their dogs will love receiving this Dog Backpack!
The saddlebags allow the dog to carry food, treats, doggie bags, first aid supplies and travel bowls.
The rear leash hook doubles as a bottle opener. It is a fun camping present that is a "combo" gift for the dog and the human who loves it! 🐶
&
Dog Backpack
Saddlebags For Gear
Leash Hook/Bottle Opener
&
---
---
5. Waterproof Picnic Backpacks

4-Person Waterproof Picnic Backpack
Eating at the campsite is great but taking a picnic out into the wilderness after a stunning hike is even better!
Waterproof Picnic Backpacks make perfect gifts for campers and hikers who want to combine a little adventure with a nice glass of wine and picnic lunch! 🍷
This is one of those camp gifts the entire family can enjoy together but if you want other camping gifts specifically for women, kids and couples, we've got tons of ideas you should check out!
&
---
---
---
---
9. 2-Person Inflatable Kayak Set
2-Person Inflatable Kayak Set
If your guy likes camping at the lake and wants to get out on the water rather than just looking at it from dry land, he might just love this 2-Person Inflatable Kayak Set.
It comes with aluminum oars and a high output air pump.
This is actually one of those "couples friendly" gifts for camping lovers who like to camp together and experience active outdoor adventures during their trips.
If you want more camping gifts for couples, check out our post.
It has cute gifts for newlyweds as well as those that have been together longer than dirt! LOL
You'll find super fun camping ideas for couples presents in there!
&
---
10. DrySak Waterproof Dry Bag
DrySak Waterproof Dry Bag
Dry bags make the best camping accessories for men who participate in water sports on their camping trips.
There is nothing worse than "gear overboard" and ending up with soaking wet clothes!
Dry bags are also great for tent camping in rainy or snowy weather.
This DrySak Waterproof Dry Bag is made from heavy duty PVC that seals out the elements, keeping gear dry.
There is a splash-proof zipper pocket for easy access to money, credit cards, keys and phones.
&
---
---
---
---
14. Antique Lure Playing Cards
Rivers Edge Products Antique Lure Playing Cards In Gift Tin
The guys who fish with high-tech gear today will appreciate this nod to the past when fishing was a bit simpler.
These Antique Lure Playing Cards are like a mini encyclopedia of old time fishing lures.
This set includes 2 decks of quality playing cards with illustrations of antique fishing lures from as early as the 1800's, 5 dice and all of that is contained in a felt-lined gift tin.
These cards make fun camping gifts for guys who like to fish in the morning and play a game of cards in the afternoon!
Believe it or not, these cards are just as popular with women as they are with men! Get even more unique camping gift ideas for her!
&
---
---
---
17. Bullet Shaped Deluxe Gun Cleaning Kit
Bullet Shaped Deluxe Gun Cleaning Kit
If your guy likes guns, he's probably into keeping them clean too!
The Bullet Shaped Deluxe Gun Cleaning Kit has everything he needs to keep his shooting equipment in top shape.
This cool camping gear works with most gun models and comes with brushes, mops, patches, adapters, rods and gun oil.
But, the most unique thing about this kit is that it resembles a .22 long rifle shell!
This stylish set makes awesome camping gifts for boyfriends who enjoy the sport of shooting on their camping trips but don't like to put away their nasty-looking cleaning kit when they are finished using it! LOL
&
---
18. HotHands Warmers Variety Pack
HotHands Warmers Variety Pack
Colder-weather camping is much more enjoyable when you can stay comfortable.
For guys who do a lot of camping in cold weather (especially hunters), these little warmers are like magic!
The HotHands Warmers Variety Pack includes warmers for hands, toes and bodies.
They make great camping Christmas gifts and can be given wrapped or put in the sock hanging on the mantel as a stocking stuffer.
&
---
---
20. Deluxe Hunters Gift Basket
Deluxe Hunters Gift Basket
Why stop at one when you can give a bunch of gifts?
This large Deluxe Hunters Gift Basket has two coffee mugs with deer hunting scenes, a gift book with 10 hunting tips, snacks and it usually ships the same day you order!
It's a great option if you are giving your gift across the miles!
You can also do a DIY camping gift basket by choosing an assortment of personally selected small camping themed gifts and placing them in a decorative basket then adding a handsome bow.
&
---
21. Inexpensive Entry-Level Drones
RC Quadcopter Drone
Operating drones is becoming a really popular activity with guys who camp.
Some use them for scouting campsites and hikes.
Others use them for competitive games.
Still others use them for photography and videography.
There are fun Inexpensive Entry-Level Drones that make unique camping gifts for guys who like to combine a bit of technology into their outdoor experiences.
&
---
Unique Drinking Gifts For Camping Men
---
22. YETI Rambler Colster Can And Bottle Holders
Unless your camping man is part German, he probably doesn't like warm beer … and keeping beer cold on camping trips is not always easy.
Whether he likes his beer in cans or bottles, these YETI Rambler Colster Can And Bottle Holders make great camp gifts!
YETI brand products are known for their quality and ability to outperform their competition.
The Colster's design does not disappoint!
It has a "Load-and-Lock Gasket" that secures the drink in place and the double-wall vacuum insulation keeps the drink colder for a longer period of time without sweating!
This cool camping gear is designed to fit in standard sized cup holders too!
& 
YETI Rambler Colster Can And Bottle Holder
Holds Cans And Bottles
&
---
---
24. Happy Hour Flag
Camco Happy Hour Flag
For some reason, camping guys like to raise the Happy Hour Flag and make the announcement that it is time for a toast!
These flags are especially popular funny gifts for men who use an RV for their camping adventures.
If you are looking for more gift ideas like this, check out all of these cool camping flags!
&
---
---
26. Beer Bottle Hip Holster
Beer Bottle Hip Holster
For the hot shot who likes to "quick draw" his favorite beverage, this Beer Bottle Hip Holster is just what the doctor ordered!
These things make fun camp gifts for guys who just can't sit down while they enjoy their favorite beer!
The nylon holster holds bottles and cans … and … has a leg side pocket that will fit cash and cards.
If your guy likes to play horseshoes while wearing this beer holster, he might need to become ambidextrous! LOL
&
---
---
Stainless Steel Insulated Wide Mouth Water Bottle
Water bottles are just part of camping BUT not all water bottles are created equally.
Your guy will think this Insulated Wide Mouth Water Bottle is one of the best camping gifts for him because the double wall design keeps the liquid inside cold but it won't transfer that to his hands and it prevents condensation on the outside of the bottle too!
The wide mouth makes it easy to fill and add ice cubes. It also has a carrying pouch and comes in tons of cool color options! 
Best of all, this bottle easily fits in a camp chair cup holder and backpack side pocket which are both necessary when it comes to good gifts for campers and hikers!
&
---
---
---
---
You put the stainless steel sticks in the freezer to get really cold and then place them inside a bottle of beer when ready to drink.
Ta-Da … Icy cold beer to the bottom of the bottle!
We've actually buried our chiller sticks in a bag of ice when we were tent camping without a freezer, and they work just fine.
That just might qualify them as the winner of the Best Camping Gear 2021 award!
& 
Beer Chiller Sticks For Bottles
Beer Chiller Sticks And Bottle Opener
&
---
Best Camping Gifts For His Camp Kitchen
---
Coghlan's Cooler Light
There is nothing worse than reaching into a dark drink cooler and coming up with a diet soda instead of the icy cold beer that he wanted!
This Cooler Light is just plain cool! 
When the cooler lid is lifted, this light turns on and automatically turns off after the lid is closed.
It was one of the best camping accessories 2018 and continues to be this year!
It's one of those cheap camping gifts that is also one of the most simple, smart and super popular camping presents around!
I have to call that a lightbulb moment!
&
---
Cast Iron Grill Press
There are so many uses for a Cast Iron Grill Press in camp cooking!
I like using ours to make grilled panini sandwiches … my husband likes keeping the bacon flat while cooking it.
Have I ever mentioned how much bacon we eat on camping trips? As my husband says, "Everything tastes better with bacon!"
And, that's why he insisted this camp kitchen gadget was included on our list of awesome camping presents for men!
&
---
36-Quart Kool Kaddy Electric Cooler/Warmer
There are all sorts of camping storage ideas to keep food cold/hot while out in the wilderness.
Men who go on extended camping, hunting and fishing trips may not have access to ice for traditional coolers but they will often have access to a vehicle battery to power an electric cooler.
This Electric Cooler/Warmer can be plugged in a cigarette-lighter adapter and cools to 40 degrees F below ambient temperature or heats to 135 degrees F.
It makes a really unique camping gift for guys who want roughin' it to be a little less rough!
&
---
---
Camp Dutch Oven Tote Bag
Dutch oven cooks are some of the easiest guys to buy for because there are so many cool gadgets for camp cooking!
We have a Camp Dutch Oven Tote Bag for each one of our Dutch ovens.
They make carrying and storage so simple, organized and clean.
They come if different sizes to fit the various Dutch oven sizes on the market.
Ask any Dutch oven guy and he'll tell you, Dutch oven accessories are the BEST camping gifts for him!
Check out these camp Dutch oven accessories for more great camping gifts ideas!
&
---
---
Disposable Foil Dutch Oven Liner
These Disposable Foil Dutch Oven Liners make great camp gifts for men who like cooking with Dutch ovens but don't like the clean-up afterwards!
Foil liners are especially nice when baking cakes that you want to lift out of the oven as a whole cake rather than individual slices.
They come in various sizes to fit different Dutch ovens.
&
---
Well, maybe that is a bit of a stretch … but, he will love this piece of camp cooking gear!
It has a T-bar design which means you can actually lift a hot lid full of coals … and … safely and easily move heavy Dutch ovens that are filled with prepared meals.
These 22″ lifters make the best gifts for campers who enjoy cooking with their camp Dutch ovens.
Time to get the coals fired up!
---
---
There is just something about flames on a BBQ glove rated to 932° Fahrenheit that makes this one of those super cool camping presents!
This thing actually prompted my husband to smoke a brisket for dinner!
He smokes lots of different cuts of meat on our big grill at home but he had to get creative to smoke meat at the campsite.
---
The convenient easy-to-carry case holds everything he will need to take his grilling skills on the road!
The set includes chef's spatula, grill tongs, silicone basting brush, 8 corn holders, 5 skewers, cleaning brush, replacement brush head, aluminum storage case, digital temperature fork that displays actual and desired temperatures, an alarm alerting him when food is done and has an integrated LED light for checking food at night!
&
---
For men who think their food ends up tasting like lighter fluid, there is a really simple solution … use regular charcoal.
It is just as simple to light if you use Rapidfire Chimney Starters which make awesome camp gifts for people who like to grill with charcoal at a campsite or even at a park or in a backyard!
It is vented perfectly so you just have to dump your briquettes in the hopper and add a little newspaper to the bottom cavity … then light it with a simple match!
It works like magic!
Your camping guy will never forget you gave him this awesome piece of camp kitchen gear!
&
---
---
---
---
---
---
Think your camping guy would not know how to do a propane tank refill if you bought him a refill adapter camping gift? Our How To Refill 1 lb Propane Cylinders, Tanks And "Disposable" Small Camping Propane Bottles post has step-by-step instructions with photos and printable directions!
&
---
---
---
54. Triangle Dinner Bell
CTW Home Collection Triangle Dinner Bell with Bracket
Is your guy the chef of the campground? He can let everyone know when it is time to eat with this Triangle Dinner Bell.
Personally, I love hearing "Soup's On!" with the bell clanging in the background and my husband happily dishing out his "latest" signature meal of jambalaya or campfire chili! YUM!
This bell also makes quirky camping gifts for kids who are budding camp chefs!
You can use camping gear like this in an entire basket of camping gifts that have a cooking/eating theme.
&
---
55. Heart Shaped Pie Iron

Heart Shaped Pie Iron
There are not very many camping gift ideas for him that say "I love you" when it comes to camping gear … but … this Heart Shaped Pie Iron is one of the best gadgets around! 
And, "on-a-stick camp cooking" is one method that just about any camping guy can master!
These heart shaped pie irons also make fun camping gifts for couples who are engaged or newly married and enjoy camping together.
&
---
---
The items in this part of our camping gifts ideas list are really cool and totally practical. They are the kind of gear you'll find in our checklist for camping so if you are looking for more "necessary" camping ideas, you should grab your FREE copy and get more ideas for extremely practical camp gifts.
&
---
Unique Electronic Camping Gadget Gift Ideas
---
---
---
---
63. Goal Zero Nomad Solar Panel
Goal Zero Nomad Solar Panel
Being able to charge gear with solar power is a big benefit to guys who like to bring (and actually use) their electronics on camping trips.
This Goal Zero Nomad Solar Panel is used to direct charge phones, small devices, and 10-30 watt rechargers.
Men who like staying connected with their electronic devices but want to avoid the requirement of shore power or a generator for electricity, will love receiving solar camp gifts.
If your camping guy loves the idea of solar but he requires more power (like enough to run an RV), one of the best camping gifts you could give him would be portable solar panels for RV camping.
We have tons of information, a video and a FREE printable RV Solar Calculator to help you determine how much solar you need to operate an RV.
&
---
---
Camp Gifts For His Vehicle
---
65. HitchGrip Coupling Tools
HitchGrip Coupling Tool For RVs And Trailers
Guys who tow trailers on camp trips will love receiving these HitchGrip Coupling Tools as camping gifts!
It will keep the grease off his hands and reduce the risk of straining his back with enough leverage to lift the hitch with one hand.
He'll be able to hook up and remove his hitch without getting down on the ground.
It is a great gift for campers, boat trailers, horse trailers, toy-haulers and utility trailers.
&
---
---
---
68. Truck Bed Rail LED Light Kit
Truck Bed Rail LED Light Kit
Truck beds are awesome for hauling and storing gear on camping trips.
Searching around in the bed of the truck after dark is not quite so marvelous … that's why this Truck Bed Rail LED Light Kit is one of the best gift ideas for camping enthusiasts who transport their gear in the bed of a truck.
With 32 ultra-bright white SMD LEDs, he'll feel like he is the rock star at center stage blinded by the spotlights! Or, just your rock star camping dude!
&
---
69. Vehicle Extraction Traction Mats
Vehicle Extraction Traction Mats
Off-Roading is a really popular camping activity for lots of guys so it only makes sense that these Vehicle Extraction Traction Mats are great gift ideas for campers who like to go off pavement!
They work because the raised tracks help prevent a vehicle's tires from spinning on snow, ice, mud or sand … which means … No towing or pushing is required!
The best camping gadgets are the ones that eliminate the "work" part of camping!
&
---
---
71. LED Lighted Telescoping Mirrors
LED Lighted Telescoping Rectangular Inspection Mirror
Guys who like camping and tools can tell you they need a good mirror to see things in out-of-the-way places.
These LED Lighted Telescoping Mirrors are great camp gifts for camping tool-loving kind of men!
Even if YOU don't appreciate this thing, you will hear about how cool it is from him!
It extends up to 24 inches, has two bright white LED lights and has a 360 degree flexible goosehead to see areas that are virtually hidden.
Superman's x-ray vision has got nothin' on these things!
&
---
---
Safety, Security And Tactical Gear Camping Gifts For Him
---
73. Tactical LED Flashlight Gloves
Tactical LED Flashlight Gloves
How often do you see your camping guy struggling to do a simple task in the dark while holding a flashlight so he can see?
If you have witnessed this balancing act more than once, these Tactical LED Flashlight Gloves will make the best camping gifts for your camping handyman!
They are lightweight, flexible and have a bright LED light set in the head of the two fingers and thumbs.
These gloves are must have camping accessories for campers who tend to do campsite tasks after the sun goes down!
&
---
74. HitchSafe Key Vaults
HitchSafe Key Vault
Camping + Men With Wallets = Bad Idea! I've seen way too many guys misplace their wallets in the middle of a camping trip.
"Let's see, maybe we should trace our steps to try to find it. We started the day by walking to Lookout Point with our coffee, did a little firewood chopping, took a bike ride down our favorite path, scouted for a new campsite, hiked the Turkey Springs Trail, came back to camp for a quick shower and took a nap in the hammock before making dinner. When did you notice it was missing?"
Uh, Nevermind … Let's just cancel the credit cards, call it a lesson-learned, and get one of those HitchSafe Key Vaults before our next trip!
This is one of the BEST camping storage ideas ever invented making it a gadget we classify as "peace of mind gifts" for campers.
This key vault happens to be one of the most popular gifts for RV owners too!
&
---
---
---
77. LED Tactical Rescue Pocket Knives
Tac-Force LED Tactical Rescue Pocket Knife
Everyone seems to know a camping guy who uses a pocket knife for EVERYTHING at the campsite.
You catch a glimpse of him cutting a rope, a few minutes later you see him slicing an apple, then you notice him cleaning the dirt from under his fingernails, just after dinner you spot him whittling a stick to roast a marshmallow over the campfire!
If you are giving presents to those kinds of camping guys, LED Tactical Rescue Pocket Knives are cool camping gear ideas!
This folding knife has spring assist, rapid one-handed deployment and locks securely into place with a liner lock and has a built-in LED flashlight!
&
---
78. LED Headlamp
LED Headlamp
Nighttime camping activities are great unless you are trying to set up, tear down or do some other task in the dark.
My husband swears by his headlamp even though he may look a little weird wearing it, sort of like one of those cyclops.
He says it's pitch black and nobody can see him anyway so he just doesn't care! LOL
I could give him an entire case of these things and he would say they were the best camping gifts for him … of all time … and, he'd be happy!
This LED Headlamp has 4 modes and operates on 3 AAA batteries.
&
---
---
80. 3-In-1 Survival Tool
3-In-1 Survival Tool
Survival gadgets come in all shapes and sizes. This 3-In-1 Survival Tool has a magnesium fire starter rod, magnetic compass and emergency whistle so it's like giving three camping gifts in one little package!
These types of camping supplies gift ideas make great embellishments on a wrapped package as well as cool Christmas stocking stuffers!
If you are thinking fire starters make awesome camp gifts, you are correct! There are so many cool accessories and more gift ideas in our Fire Starters Camping Enthusiasts Must Have post.
&
---
81. LifeStraw Personal Water Filter
LifeStraw Personal Water Filter
We've been camping and hiking for a long time and I NEVER saw any of my family members drink from a stream UNTIL we discovered the LifeStraw Personal Water Filter!
I know, lots of people consider these things "emergency preparedness" tools but when you are hiking under the hot sun along a babbling stream … there is just something telling you to forget about the water in your Camelbak and go for the stream!
One straw provides 264 gallons of safe drinking water without using chemicals or iodine … talk about camping presents for him that keep … on … giving!
&
---
---
---
Personal Grooming And First Aid Camping Gifts For Men
---
---
---
86. Camouflage Bandages
Camouflage Bandages (Camo – CB Outdoors – Browns)
Cammo is always cool at the campsite!
Any self-respecting camping guy would never think of using a normal fleshy-colored bandage while camping with a group of guys.
Even a wound as simple as a paper cut needs these Camouflage Bandages which have "rugged outdoor camping adventure" written all over them! They make super funny camping gifts!
To make these unique bandages a more substantial gift, you can add them to a gift basket filled with camping cammo themed gifts for men who like cammo gear.
On their own, they make great camping Christmas gifts for stocking stuffers!
&
---
87. Folding Wood Combs
88. Beard Brush And Comb Set
Have you ever noticed how fanatical bearded guys can be about their facial hair? They don't just forget the whole obsession during camping trips.
These epic Folding Wood Combs make cool camping gifts for those dudes! They are compact (which is great for camping) and made out of wood (so they are anti-static to tame the prized possession).
For guys who might want to take longer camping trips, shaping their beards might be in order … this Beard Brush And Comb Set is a complete kit and includes a beard comb, beard brush, mustache comb, mustache scissors all inside a storage pouch. 
Groomed beards make happy hairy bearded camping men!
&
Folding Wooden Comb
Beard Brush And Comb Set
&
---
89. Squeeze Pod Toiletries For Men
Personal grooming IS approved for camping guys!
Squeeze Pod Toiletries For Men make great camp gifts for guys who like to keep up their normal grooming routing while out in the wild.
The set includes 18 Single Use Pods: (2) Shampoo, (2) Conditioner, (2) Body Wash, (3) Hair Gel, (3) Shave Cream, (3) Moisturizing Lotion and (3) Toilet Odor Eliminator.
The travel toiletries are TSA compliant, PETA Certified, Cruelty Free, Gluten Free, and Vegan.
Don't worry ladies, Squeeze Pod Toiletries For Women are available too!
& 
Squeeze Pod Toiletries For Men
Leak Proof Single Use Packages
Compact Size
&
---
Anti-Bug Gifts For Camping Men
---
90. Flyshooter Original Bug Gun
Martin Paul 100-75 Flyshooter The Original Bug Gun, Colors may vary
When my husband told me he wanted one of these, I thought he was joking.
Then he said … Seriously, who wouldn't want to shoot a fly with this Flyshooter Original Bug Gun? 
I thought … he's right!
Instead of just chasing down insects with a common everyday flyswatter, this flyshooter almost makes getting rid of insects at the campsite a fun small game hunting adventure.
This is one of those unique camping gifts that everybody wants to play with … in other words, they make fun camping gifts for kids too … so … if you only get one, he might have to share!
&
---
91. Bug-A-Salt
Thinking your guy wants a little more power in his bug killing gun? HERE IT IS!!!
The Bug-A-Salt is one of those cool hunting gifts for him, well, sort of.
This gadget is like bringing a gun to a flyswatter fight … if you know what I mean! LOL
This bug beating contraption uses regular table salt to kill flies and other bugs.
It shoots the salt in a shotgun spray pattern and usually eliminates the bug on the first round … that is, depending on the aim of the shooter!
This gadget is a fun way for ADULTS to kill bugs … it is not intended to be used by kids. 
Bug-A-Salt 2.0
Shoots Regular Table Salt To Kill Flies
&
---
We have more cool ideas of how to keep bugs away from a campsite!
---
Campfire Starter Gifts For Campers
---
---
---
---
95. Mag-Torch Garden Torches
Mag-Torch Garden Torch
Mag-Torch Garden Torches are perfect camping gifts for the guys who don't want to bother with kindling and building a campfire the old-fashioned way … and, like tools!
My husband calls this his "He-Man Fire Starter Stick" and he guards it with his life. LOL
Funny, yes, but totally true!
It has a self-lighting peizo igniter and works with a standard NRT propane cylinder (the kind you use with a camp stove).
&
---
Men's Wearable Unique Camping Gifts
---
---
---
98. Happy Camper Men's PJ Pants
Happy Camper Bear, Moose, Raccoon Men's PJ Pants
For guys who sleep in some sort of garment beyond underwear, these Happy Camper Men's PJ Pants make fun camping gifts.
They are hilarious with images of camping critters like bear, moose and raccoon characters roasting marshmallows over a campfire and hanging around camp in the mountains!
They can be worn while lounging during the day or as PJs at night and remind a true camper of where he always wants to be … under a star-filled night sky in the great outdoors!
&
---
99. Baseball Cap With Built-In Bottle Opener
Bottle Opener Baseball Cap
How many times do you hear the phrase "Does anybody know where the bottle opener is?" while hanging out at the campsite?
Unique bottle openers make awesome camping gifts for men who enjoy a bottle of soda or beer during camping trips.
And, it's a gift for you too because when you give him this Baseball Cap With Built-In Bottle Opener, he'll never lose track of the bottle opener again!
Although, if he is like my husband, he might forget he is wearing it on his head!
&
---
100. Chill Pal Cooling Towel
Chill Pal Cooling Towel
Depending on the time of year you are giving camping gifts to your guy, a cooling towel may seem just wrong … but, trust me, he will love you in the heat of the summer!
My husband does not know how he ever survived hot summer camping without his!
This Chill Pal Cooling Towel works by soaking it in cold water, wringing it out, giving it a quick "snap" and then just draping around your neck.
Ahhhhhhhh, the coolness will make him sooooooo happy!
Preventing heat and cold-caused illnesses is not only good for comfort, it is good for camping safety too!
&
---
DIY Camping Gift Ideas
---
101. Homemade Fire Starters
Some of the sweetest gifts for people who camp are the ones that are homemade and come from the heart!
These Homemade Fire Starters are made by stuffing dryer lint inside empty toilet paper rolls!
They work great and make a fun project for young kids who love camping with their friends and family!
&
---
102. Campfire Hot Cocoa Mix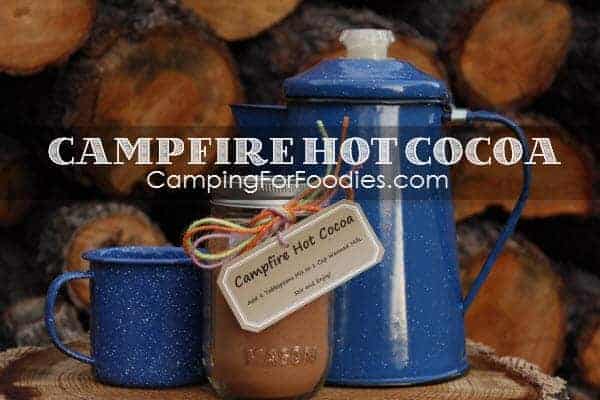 This Campfire Hot Cocoa Mix makes great gifts for people who camp and love sipping a warm cup of hot chocolate while toasting a marshmallow over the campfire!
You just mix 4 simple dry ingredients, spoon it into a glass jar, add a tag with instructions and decorative ribbon and your DIY gift is ready to give!
These are awesome camping birthday gift ideas to give as party favors because everybody enjoys a rich and creamy hot cocoa now and then!
&
---
Need More Camping Gift Ideas? Check Out These Posts!
---
The Christmas holiday season is one of the biggest gift-giving times of year!
Our list of awesome Christmas gifts for campers is updated daily during the shopping season so you can see which are the most popular gifts of the year!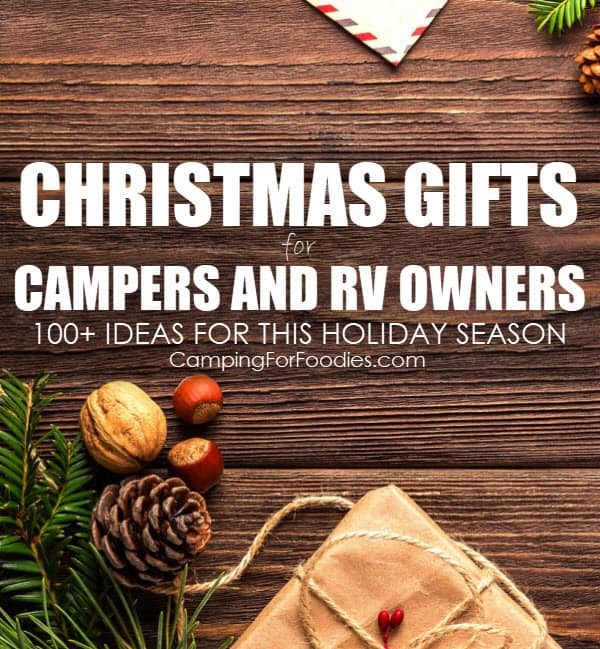 ---
Small gifts that fit in a Christmas stocking are perfect for giving all year round!
These super cool camping stocking stuffers are some of the best little camping Christmas gifts that start under $10! Some of them even start below 5 bucks and they are NOT JUNK!
&
---
Pin It For Later!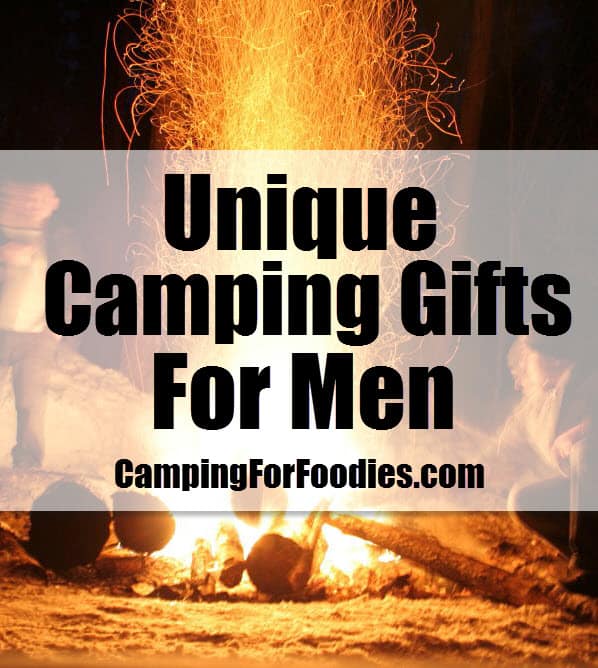 ---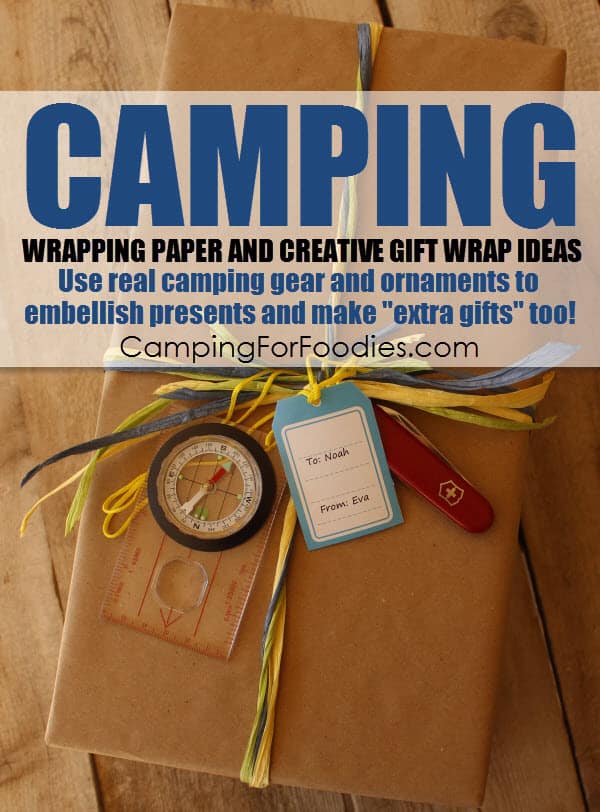 Get Fun Camping Wrapping Paper And Creative Gift Wrap Ideas here!
&
---