The Best SEASONAL Camping Checklists To Help You Plan The Perfect Trip!
Most camping tips are universal and apply to your trips no matter what time of year you are camping.
But, there are specific things you need to remember for those unique time periods and that's when a seasonal camping checklist comes in handy!
Psst we're compensated…see our disclosures.
Camping Checklist For Every Season
If you are camping in the winter, spring, summer, fall or during a holiday season, these checklists will help you plan the perfect trip … whether you want to plan a minimal camping trip without a lot of gear or you want to plan a big bash with lots of gadgets!
Spring Camping Season Checklists
The challenges that come with camping in the spring include: stored equipment condition, rain and more. Here's help!
This tent and RV spring camping checklist is designed to get you ready for camping season with gear inspection, cleaning and maintenance tips.
You need this camping in the rain checklist with tips on how to camp in the rain, have the appropriate rain gear and hacks to help you through the raindrops!
There is nothing better than being prepared with fun rainy day camp games and activities the entire family can play indoors if the rain is too severe to remain outside.
Winter Camping Season Checklists
The challenges that come with camping in the winter include: freezing conditions, frozen gear, unsafe body temperatures and more. Here's help!
When it comes to RV camping, this winter camping checklist will help you avoid situations that can make you cry! No more freezing allowed!
Do you know how to stay warm in a tent? This cold weather camping checklist will show you how to keep your body and tent warm in the winter.
Use this cold weather camping checklist to ensure you have the proper winter camping clothing to keep your body safe in the elements.
So many people escape to the desert to camp during the winter and hiking is a popular activity so I've created this hiking in the desert camping checklist to help visitors enjoy it.
Fall Camping Season Checklists
The challenges that come with camping in the fall include: unpredictable weather conditions, closed campsites, unavailable activities and more. Here's help!
This fall camping checklist includes autumn camping safety tips, gear recommendations, warm food ideas and interesting fall camping activities the entire family will adore.
Did you know there are tons of FREE tools to help you experience fall leaf camping? You are going to want to plan a fall foliage camping trip as soon as you can!
This is a checklist of the best National Parks for fall foliage season … I call it the "Camper's Colorful Bucket List" and mean it!
Summer Camping Season Checklists
The challenges that come with camping in the summer include: bears, bugs, big crowds, overbooked campgrounds, hot weather, wildfires, fire restrictions and more. Here's help!
This peak and off-peak season National Park checklist includes statistics on the largest National Parks crowds, least crowded National Parks, tips on the best time to visit and National Park camping tips.
For many people this holiday kicks off the camping season. This Memorial Day camping checklist will help you plan the perfect trip!
Use these tips for camping in bear country … know what to do if a bear enters your campsite, how to store food when camping in bear country and keep your family safe!
Here's how to keep bugs away by using camping insect repellent, hacks to avoid the pests and find the best mosquito repellent for camping too.
We've got simple tips for camping without fire during a fire ban … and enjoying every minute of it!
The heat of summer makes cold food storage difficult. This summer camping food checklist includes camping food recipes using ingredients that require no refrigeration!
These summer camping food safety tips include how to keep food cold while camping, how to pack a cooler and effective camping food storage ideas.
Holiday Camping Season Checklists
The challenges that come with camping during the holidays include: missing out on the holiday celebrations and more. Here's help!
Halloween camping can be just as fun as halloweening at home! These simple ideas show you how.
A Thanksgiving camping trip is a fabulous experience! We have tips on trip planning, meal planning and more.
Thinking about a camping Christmas experience? These quick tips will show you how to decorate and celebrate the holiday with gear you already have!
A romantic Valentines Day camping trip can be fun and only requires a little extra planning.
Camping Checklists For All Seasons 
There are some camping checklists that you need during every season. Here's help!
Our FREE printable RV and tent camping checklist is one you will appreciate on every one of your camp adventures.
If you are like hundreds of other RVers, you'll love our FREE printable RV tool kit checklist!
This first time camping checklist is a must for new tent campers.
I can't even begin to count how many people told us our RV camping tips for beginners have helped them enjoy their new experiences. That is so gratifying to hear!!!
We have created a comprehensive dispersed camping checklist because off the grid is our first choice when it comes to where we want to camp.
Glam camping is not for everyone but for those who love it … this DIY glamping checklist is an awesome one!
This camping road trip checklist includes a listing of the NPS's List Of Historic Sites Along Route 66.
Don't forget to use a spice checklist in addition to your normal camping food checklist. The right spice blend can make a piece of tree bark taste amazing … LOL.
We saved the best for last (we are Camping For Foodies, you know!) Don't forget to nourish your body with some awesome camping food along your journey!
---
FREE Printable Camping Route Planner
As you plan your camping trip, you may want to pay special attention to the travel route.
Our FREE printable camping route planner is a great tool that will help you design the perfect route for your journey.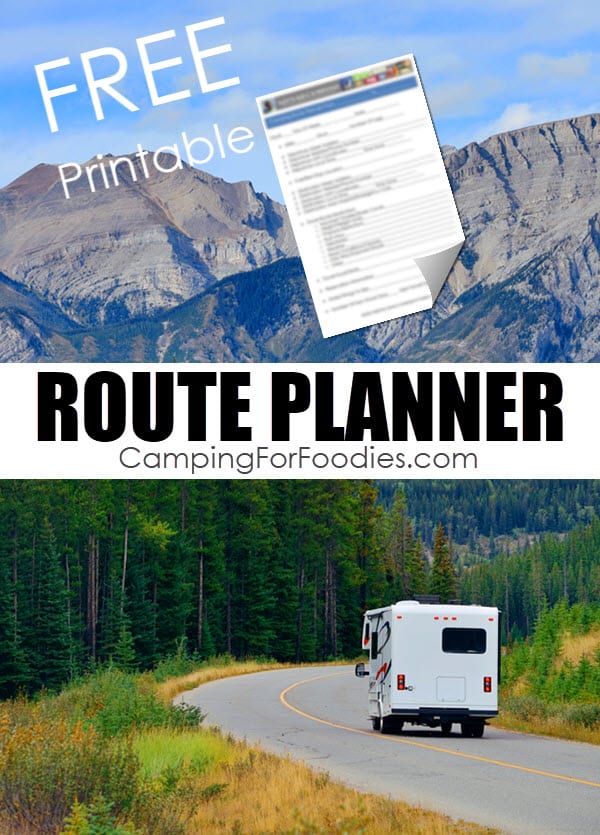 ---
---
Our Cool Camping Products Make Great Gifts!
---