This Easy Make-Ahead Basil Butter Recipe Makes Your Camping Meals Restaurant-Quality!
Don't you just love make ahead camping meals for busy camp trips?
One of the easiest things to cook is grilled meat … which is awesome … but it becomes restaurant-quality when you put a flavored butter on it.
This basil butter recipe is one of my favorite ways to use my home-grown herbs and it can be made long before your camp trip even begins!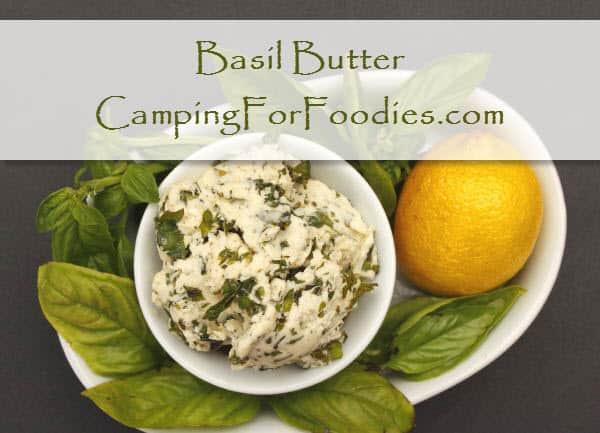 Psst we're compensated…see our disclosures.
Grow Basil For Your Butter
Nothing says summer like fresh basil!
My family accuses me of putting it on everything (I even use it occasionally in cocktails).
I grow it in my garden and in hanging planters so I never run out of this delectable edible beauty.
After all, fresh basil is my go-to herb … I can't deny it.
---
Why Use Camping Butter?
This classic basil butter recipe is super easy and can be made in mere minutes.
What's even better … it stores well in the freezer so you can make it ahead and store in small or large quantities until ready to use.
A little pat works wonders on grilled meats and veggies but you'll want larger quantities for something like big parties feasting on the traditional summertime favorite … campfire corn on the cob!
---
How To Make Basil Butter
This is one of the easiest, flavor-packed recipes you will ever make!
---
Step 1. Chop the basil.
You need quite a bit of basil (that is one of the reasons I grow my own) for this recipe that you will need to chop, chiffonade-style (like little ribbons).
Camping Flexible Cutting Mats
The easiest way to chiffonade basil is to roll it like a cigar and then slice it into fine strips.
Chef Jon-Paul Hutchins from LeCordon Bleu makes it look easy … because it is!
---
Step 2. Juice the lemon.
I only use real lemon juice from fresh lemons in my recipes … it just tastes better and it is so easy, there is no reason to use the fake stuff.
You can just squeeze the lemon with your hand but I like to use a squeezer to get as much juice as possible out of my lemons.
Lemon Lime Squeezer
---
Step 3. Mix the ingredients.
Mix the basil with the butter, lemon juice and seasonings until fully incorporated.
Lawry's Seasoned Pepper
---
Step 4. Store the butter.
The really cool thing about this camping butter is that you can make it way ahead of your trip.
You can either store it in the refrigerator or in the freezer until you are ready to use it.
---
Print This Basil Butter Camping Recipe
Prep Time 10 minutes
Total Time 10 minutes
Ingredients
1 1/2 cup loosely packed fresh basil leaves, chopped
1/2 pound (this is two 4oz. sticks) unsalted butter, softened 
1/2 lemon, juice of it (I like using a lemon squeezer to get maximum juice out of my citrus)
1 teaspoon seasoned pepper
1/2 teaspoon garlic salt
Instructions
Chop the basil, chiffonade-style making little ribbons.
Juice the lemon.
Mix all ingredients together, if you are not familiar with seasoned pepper, you can find it in the spice aisle.
Refrigerate until ready to use. For longer-term storage you can freeze the butter in plastic wrap.
Recommended Products
As an Amazon Associate and member of other affiliate programs, I earn from qualifying purchases.
Nutrition Information:
Yield:
4
Serving Size:
1
Amount Per Serving: Calories: 17Total Fat: 2gSaturated Fat: 1gTrans Fat: 0gUnsaturated Fat: 0gCholesterol: 4mgSodium: 12mgCarbohydrates: 1gFiber: 0gSugar: 0gProtein: 0g
---
More Easy Flavor Recipes
If you like the idea of using flavored butter to make simple meals taste great … you'll also love these recipes…
This easy chipotle mayonnaise camping recipe is great on burgers and as a dip for fries!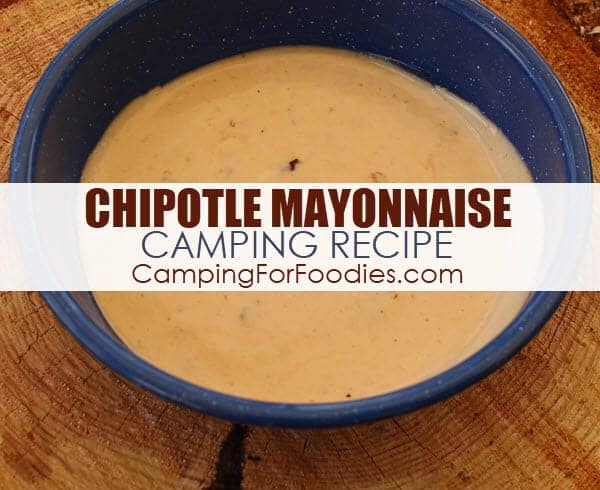 ---
This cajun spice mix camping recipe is great for fish and chicken!
---
If you want more exciting camping food ideas, we've got them for every meal of the day!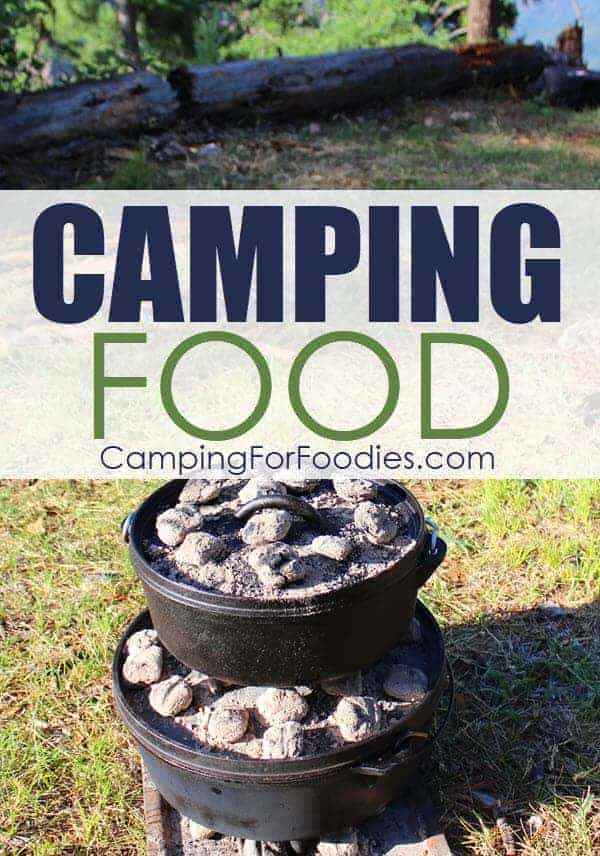 ---
---
Our Cool Camping Products Make Great Gifts!
---