Unique, Easy, And Scrumptious Meals For Your Next Trip!
One of my favorite ways to cook camping food is over a fire!
These easy campfire recipes are unique and scrumptious meals you need to try on your next camp trip.
Yummy meals cooked over the fire are a huge part of any camp trip and this variety of recipes is bound to meet your appetite no matter what your taste buds crave! 
Psst we're compensated…see our disclosures.
Breakfast Ideas
Cowboy Breakfast Skillet
Who do you think does campfire breakfasts better than anyone else? For most people, cowboys probably come to mind. This breakfast skillet is a one pot meal made in a cast iron skillet right over your firepit. The bed of sausage, onions, bell pepper and potatoes are the yummy goodness where you cook the eggs … sunny side up and scrambled … at the same time!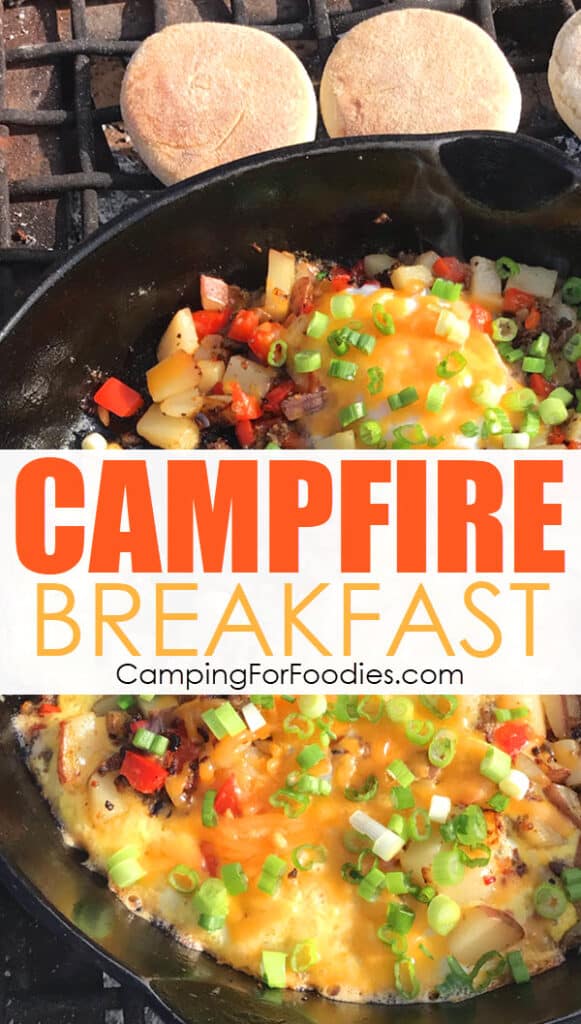 ---
Campfire French Toast
This Texas-style bread makes the most amazing French toast! You just dip it in a simple egg mixture and cook it in butter right over your campfire using a cast iron griddle. The buttery taste and crispy texture are enhanced with fresh strawberries and real maple syrup.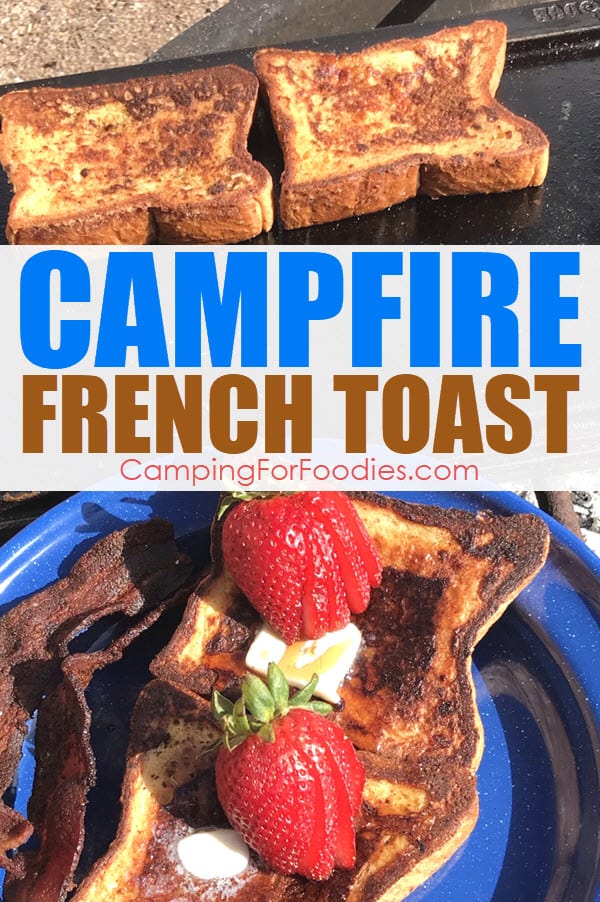 ---
Muffin Tin Eggs Campfire Recipe
Eggs to order are NOT a problem when you set up an ingredient bar for these muffin tin eggs that are cooked directly over your fire! Eggs can be cracked right into the muffin tin or scrambled. Our favorite toppings include deli ham, mushrooms, tomatoes, cheese and peppers. Get creative with the ingredients you set out and have fun making custom culinary creations.
---
Camping Dutch Oven Campfire French Toast Recipe
Traditional French toast is tough to make when you want everyone eating at the same time on camp trips. This French toast solves that problem and it is super easy too! The warm flavors of cinnamon are topped off with a yummy glaze made with powdered sugar.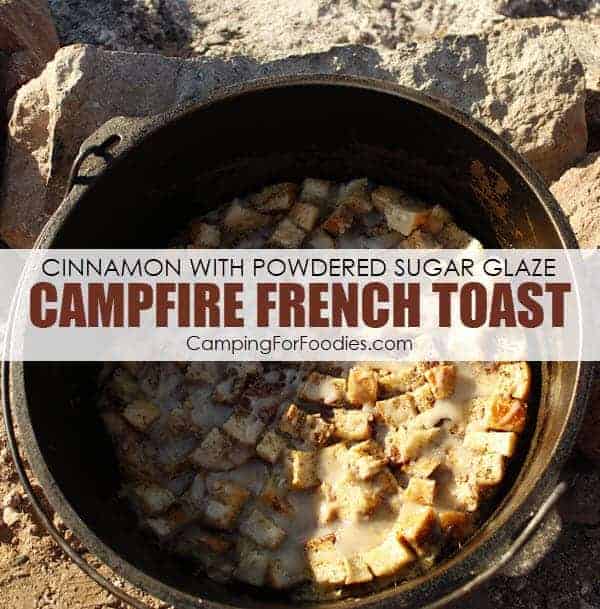 ---
Dutch Oven Scrambled Eggs
These simple scrambled eggs are easy to scale up or down to feed small groups or large crowds. You can still enjoy a hot breakfast at the campsite while keeping prep and cooking quick and easy when you focus on just a few basic ingredients like eggs and cheese.
---
Camp Chef Dutch Oven Carry Bag
Lemon Blueberry Topped Campfire Dutch Baby Recipe
Personally, I love the combination of lemon and blueberry … don't you? What is even better is how easy this lemon blueberry Dutch baby is to make on trips! It makes a fun not-too-sweet breakfast but also makes a yummy dessert!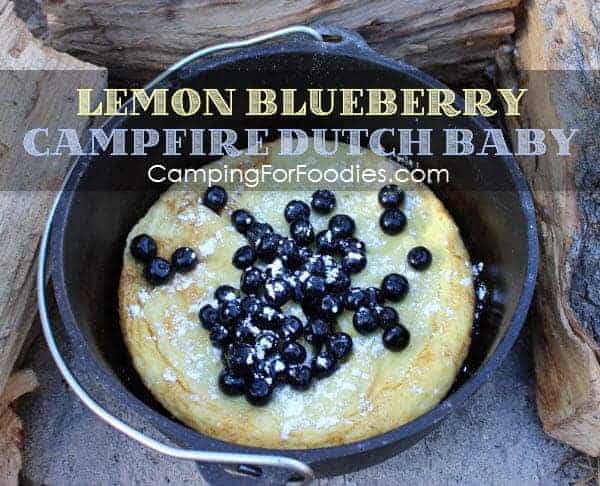 ---
Hobo Eggs
If you have 8 minutes and 3 basic ingredients … you can make this amazingly simple and yummy breakfast. You'll enjoy a fried egg that is cooked in buttered bread that creates a flavor and texture like grilled cheese. Make it in a skillet or a campfire pie iron!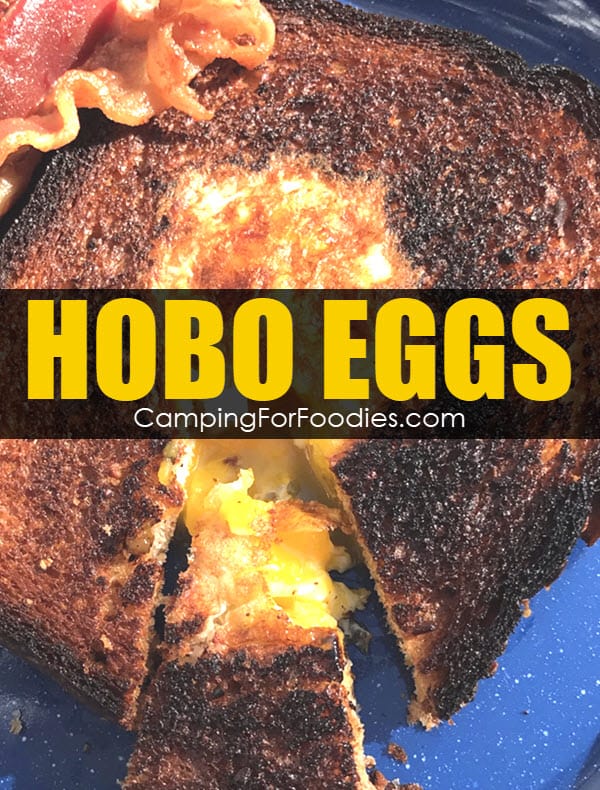 ---
Dutch Oven Bacon Scramble
Make this easy bacon scramble in your Dutch oven using camp fire coals, charcoal briquettes or your camp stove! The nice thing about a scramble is that you are cooking everything together … bacon, eggs, onion and cheese.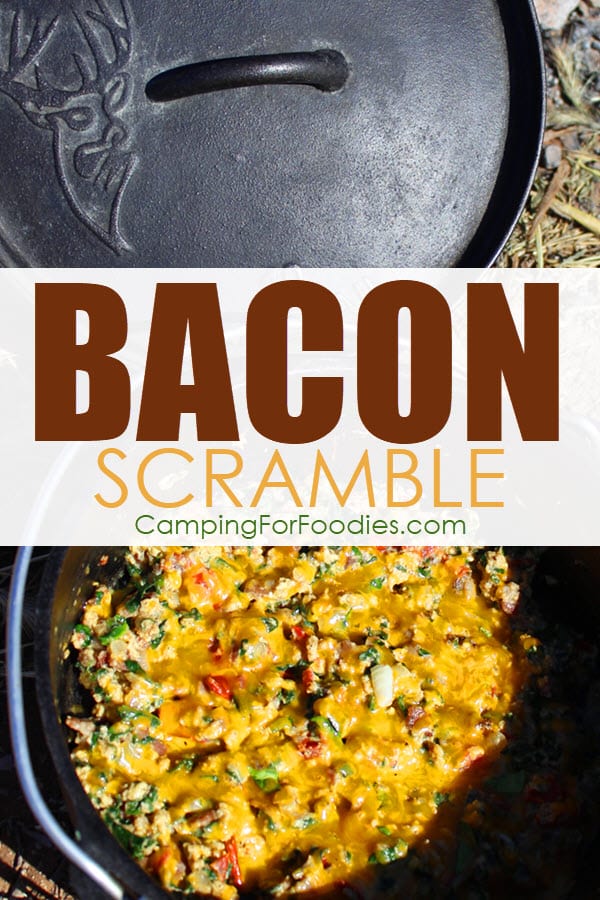 ---
Breakfast Burrito Camping Recipe
We call this easy breakfast burrito a "walkable feast" and it can be made over a camp fire or using a camp stove. It makes a filling breakfast without being too heavy. Grab one of these before you head off for your morning hike!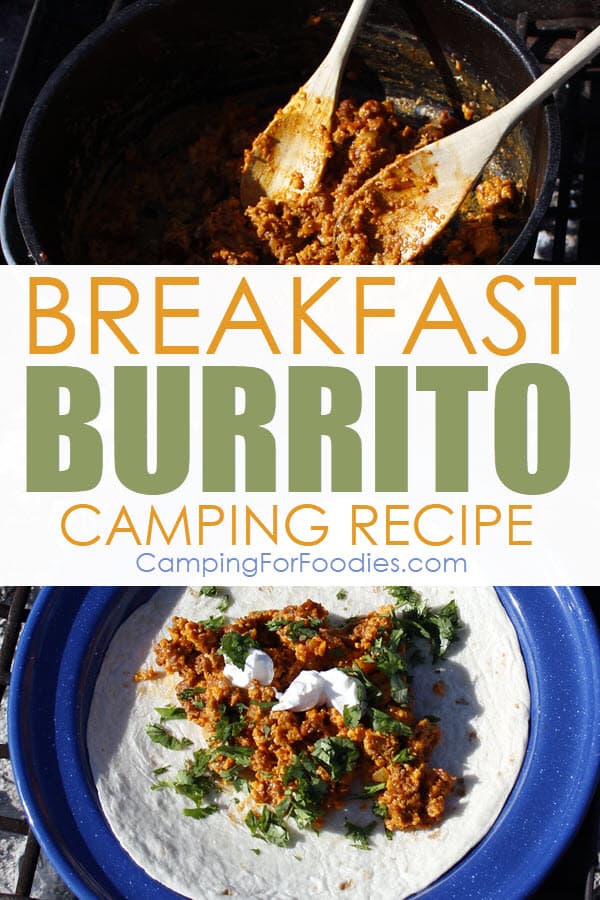 ---
Savory Dutch Baby Dutch Oven Camping Recipe
Dutch baby recipes are often slightly sweet but this one is savory and out-of-this-world yummy! It uses coals for cooking … you can use charcoal briquettes or camp fire coals to start your morning with this satisfying camp breakfast.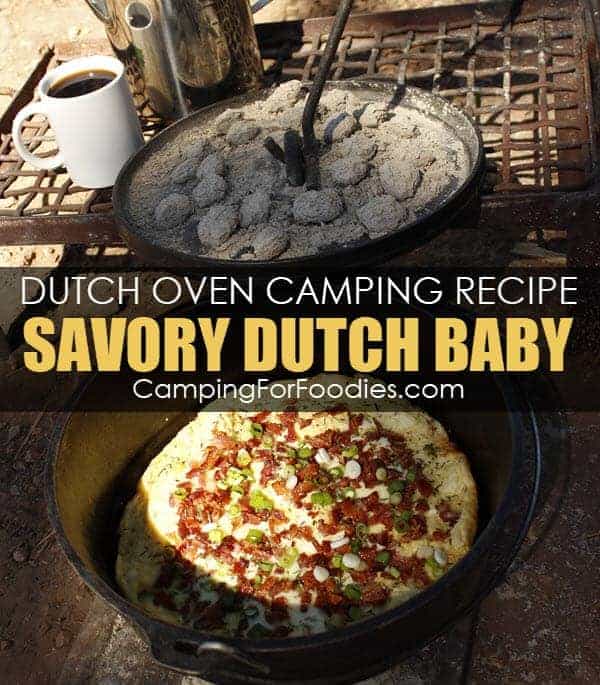 ---
Greek Pita Sandwiches Camping Breakfast Recipe
This Greek pita breakfast recipe has really bold flavors and can actually be considered "brunch" because it starts with eggs, bacon and sausage but finishes with an exciting Greek sauce and veggies. You can make it using a non-stick skillet on a camp stove or use a cast iron skillet over a camp fire.
P.S. I love cooking over a fire as much as the next happy camper but sometimes you need other options to make amazing camping food!
Camping Flexible Cutting Mats
---
Bacon Avocado Breakfast Wraps Camping Recipe
When it comes to walking and eating, this breakfast wrap is the perfect way to start your day! I usually make it with my camp stove if we want to stroll around our campsite while watching the sun come up and nibbling on this yummy breakfast. If we are staying around camp and want a morning fire, I'll pull out the cooking grate and whip this up over some nice warm coals!
---
California-Style Camping Breakfast Burritos With Avocado, Eggs & Chorizo
We typically make these California Breakfast Burritos using our camp stove in the summer but when we make them in the winter … we are all about cooking every meal we can over our fire! You'll love this freshly fabulous meal that is packed with protein and fiber. Top your tortillas with eggs, chorizo, beans, cheese, fresh cilantro and avocado slices … YUM!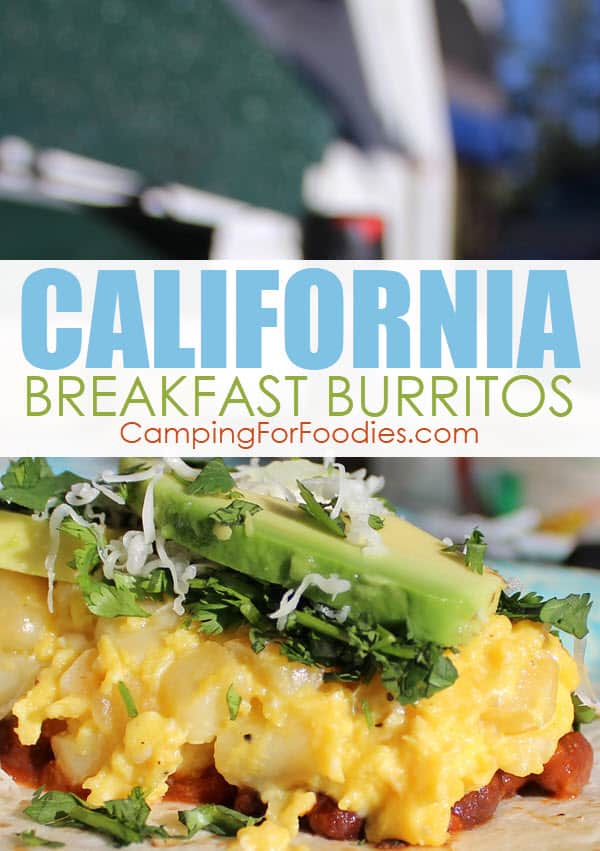 ---
Appetizers And Snacks
Stuffed Baby Bells Dutch Oven Campfire Appetizer
These little beauties take a bit of effort because you are cleaning and stuffing each baby bell pepper BUT they are totally worth it! The sausage and cheese filling makes this stuffed baby bell appetizer one of my most popular snacks and a hero with my family!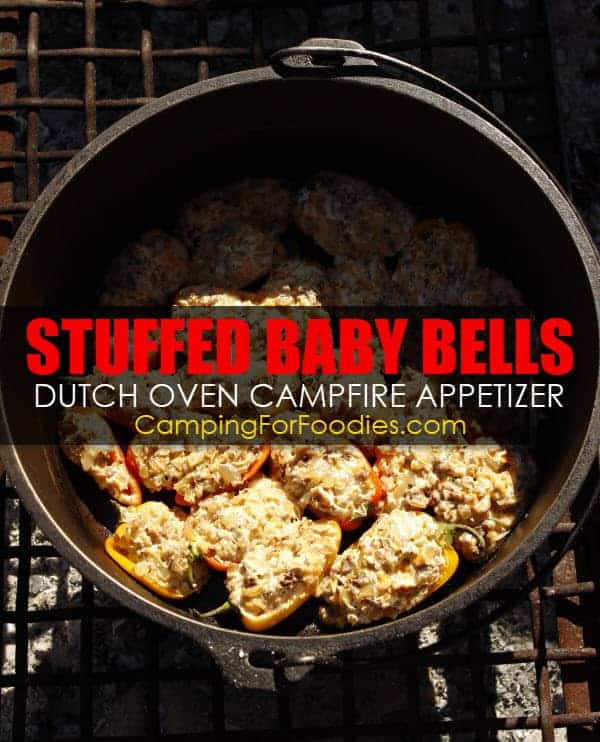 ---
Awesome Hot Cheesy Spinach Artichoke Dip Dutch Oven Campfire Recipe
There are some camp days when we just graze on appetizers and skip dinner totally. This cheesy spinach artichoke dip is the perfect centerpiece for an "appetizer dinner" camp meal or a campground potluck party. It is delicious served with crackers or slices of toasted bread.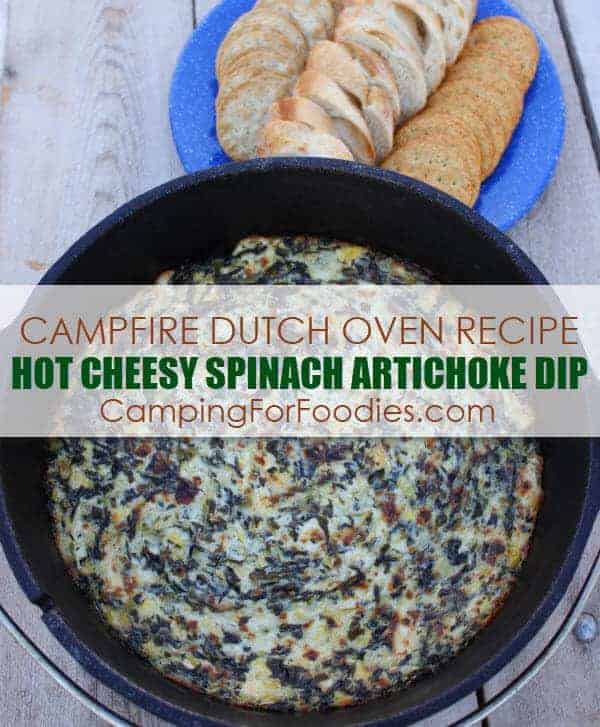 ---
Camping Nachos
You just need some hot coals from your fire to melt the cheese for these super quick nachos that are ready in minutes!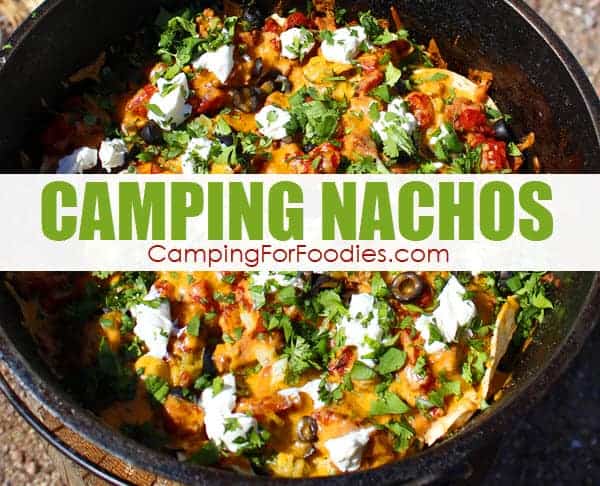 Lodge Manufacturing Parchment Paper Dutch Oven Liners
---
---
Stews, Soups And Chili Recipes
Dutch Oven Chili: Secret Family Recipe Revealed
It was not an easy task, but after years of begging, I finally got my brother-in-law to share his AMAZING chili recipe! It uses a homemade spice mix, ground beef, Italian sausage and a little bit of beer to make a flavor-packed bowl of chili you can't stop eating! We like to top it with cornbread and a bit of shredded cheese for a warm camp dinner!
---
Campfire Stew Dutch Oven Camping Recipe
A nice hearty stew is always a great dinner meal to serve on outdoor trips. This stew is fast to prep then simmers for an hour or two to create a thick sauce and super tender meat. With the veggies in the recipe, it is a fantastic one pot meal!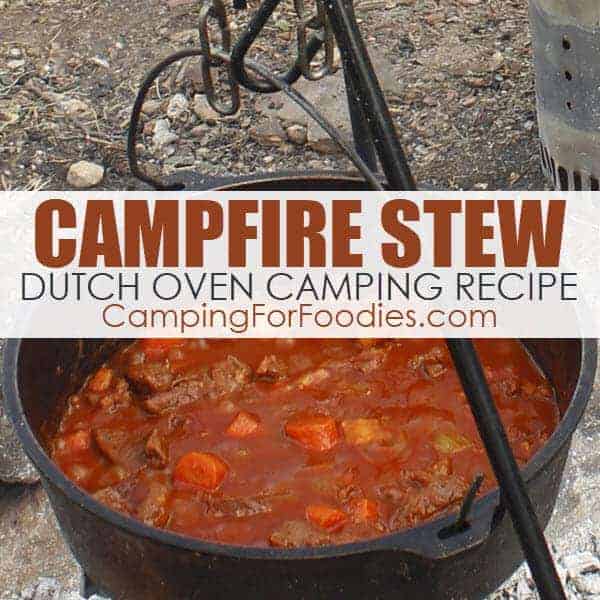 ---
Hot Italian Sausage Soup Campfire Recipe
When it comes to soup, my family considers it a "first course" but this hot Italian sausage soup is so hearty, we add a loaf of crusty bread and call it dinner!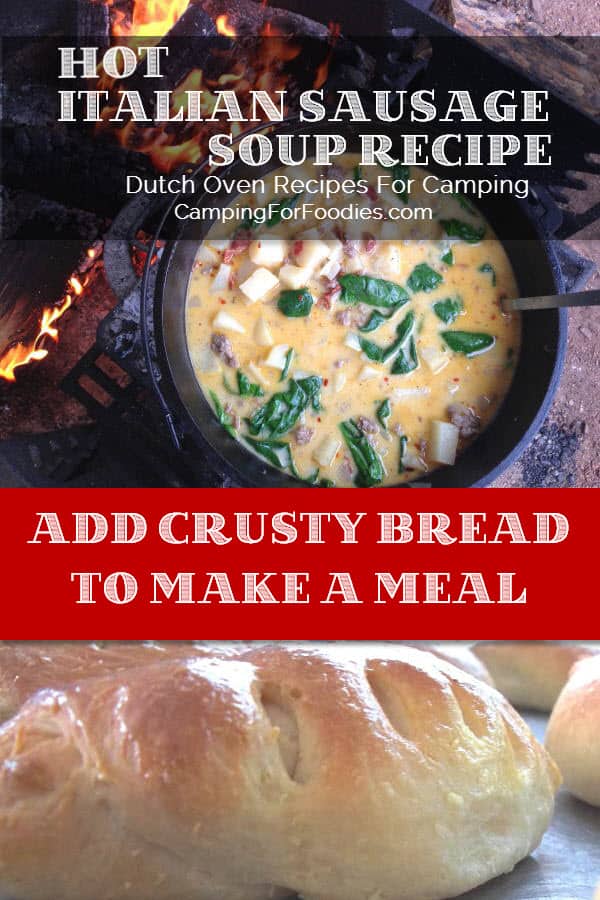 Lodge Camp Dutch Oven Lid Lifter
---
Campfire Dutch Oven Chili Recipe
We have 4 different chili recipes and we love each of them for different reasons! This chili is our most classic tasting chili recipe but there is nothing ordinary about the layers of flavor in this! Don't forget to pack your favorite campfire cooking equipment for your trip!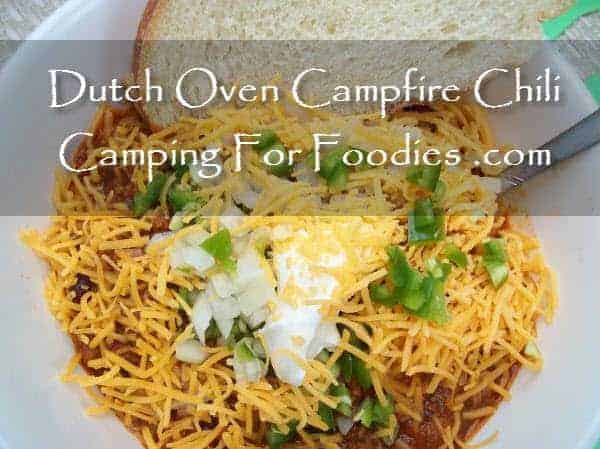 ---
Dutch Oven Jambalaya
When you have people with milder-taste buds in your camp crowd, this not-too-spicy jambalaya is a great choice! The chicken, sausage and shrimp are nestled in a thick tomato sauce. Serve all of it over a bed of rice and you have a Cajun meal that makes everyone happy!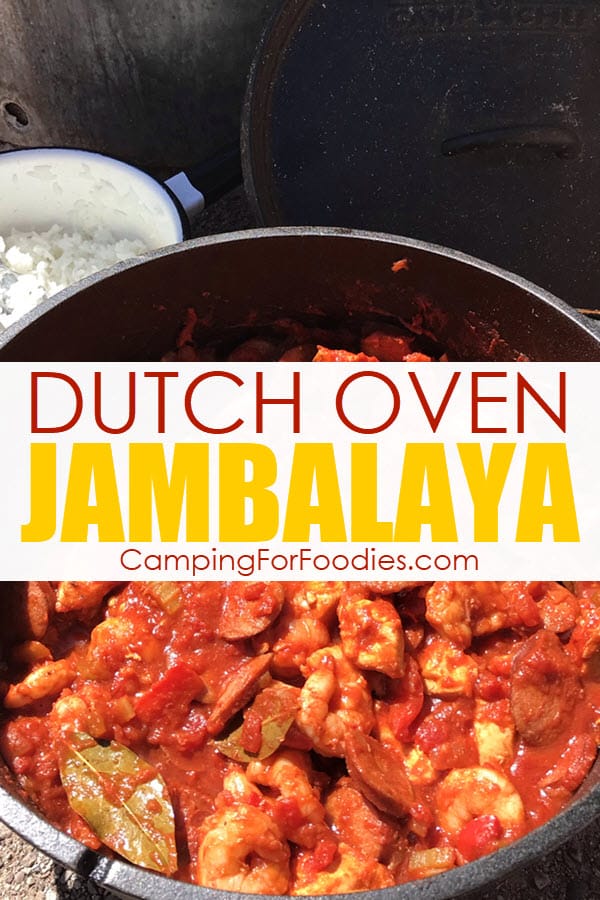 ---
Campfire White Chili Recipe
My husband is a beef chili kind of guy but he had a change of heart after trying this white chili made with ground turkey! When we are camped during times of fire restrictions, I just make this recipe directly on my camp stove.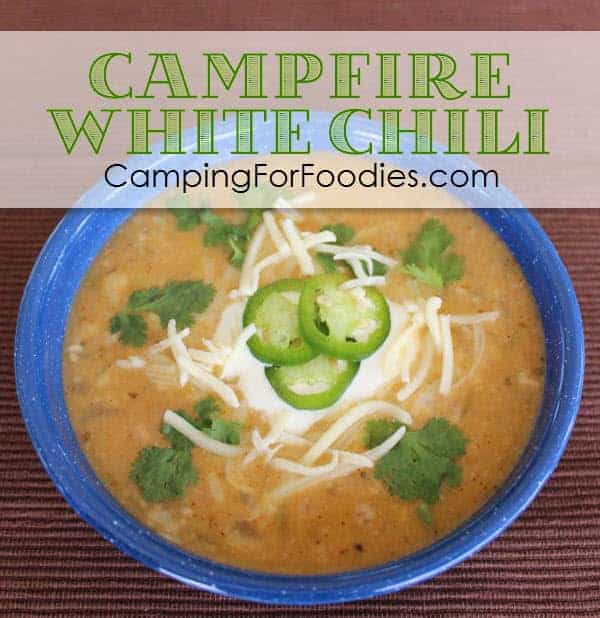 ---
Dutch Oven White Chicken Chili
Like the idea of white chili but don't want turkey? That's ok, this one is made with chicken! Just cube up some chicken breast meat, brown it in a Dutch oven, add some onion, garlic and spices to start. The great Northern beans and cream cheese give it a nice creamy texture. And the Mexican spices, green chiles and cilantro finish it off nicely.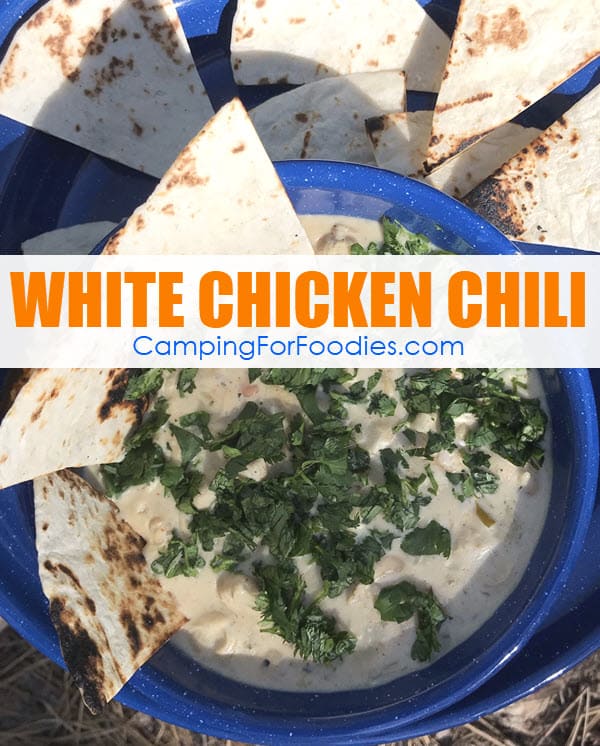 ---
Campfire Dutch Oven Gumbo Recipe
If you need to feed a crowd, consider making this totally delish gumbo. It takes a little effort but your dinner guests will thank you for it!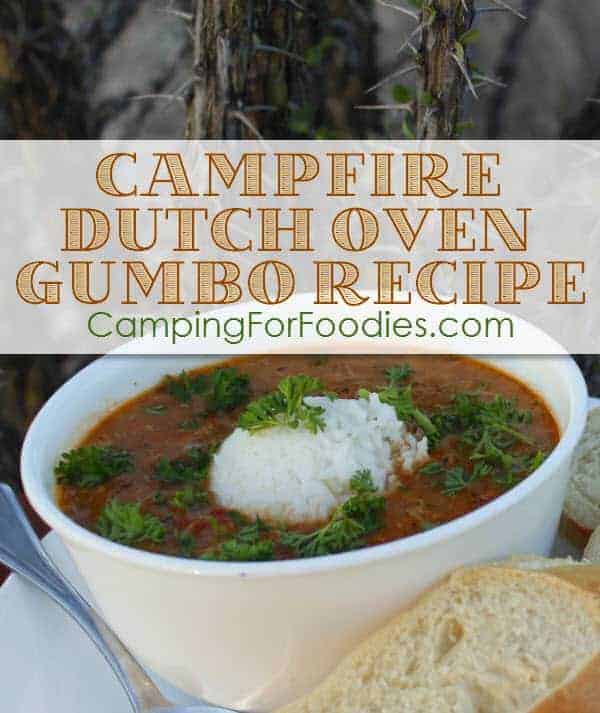 ---
---
Breads, Biscuits And Muffins
Dutch Oven Biscuits
Use camp fire coals or charcoal briquettes to make these easy and flaky biscuits!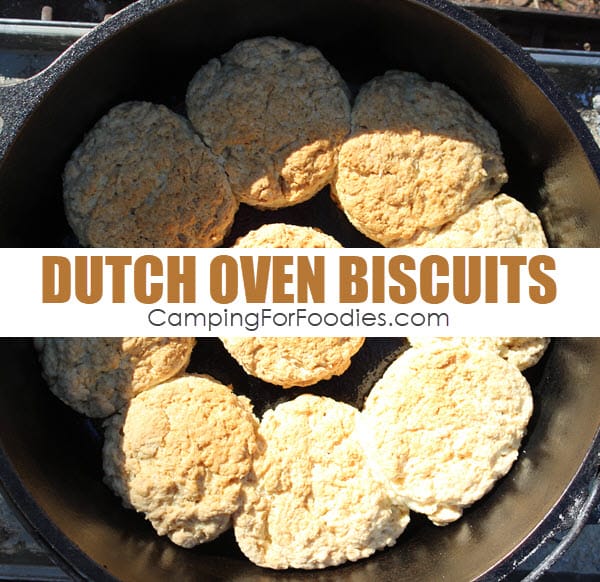 Camp Chef Dutch Oven Dome
---
---
Veggies
Camp Chef Lumberjack Over Fire Grill
---
Camping Potatoes In Foil
These simple potatoes are cooked in a foil pack and can be made over a camp fire or camp grill using propane or charcoal.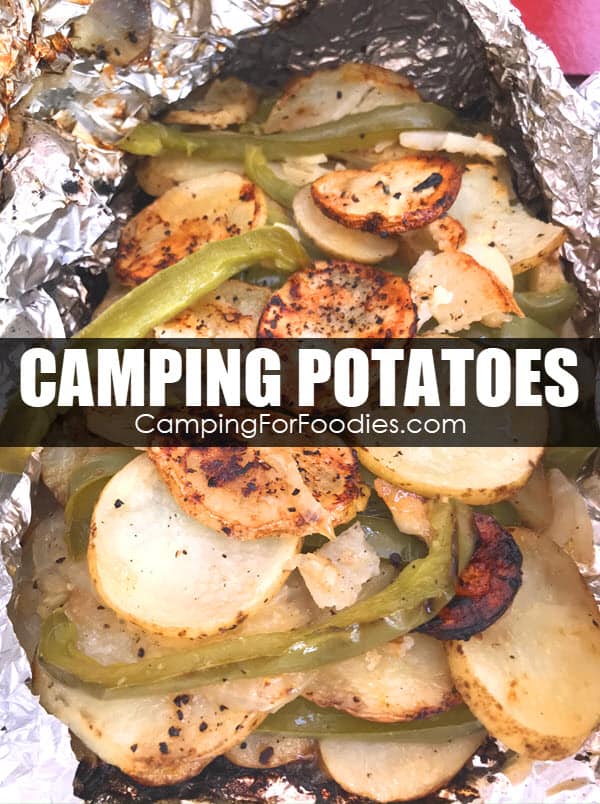 ---
Campfire Veggie Packets
If you are grilling meat, try these easy and healthy veggie packets that can be cooked with camp fire coals or your camp grill using charcoal or propane!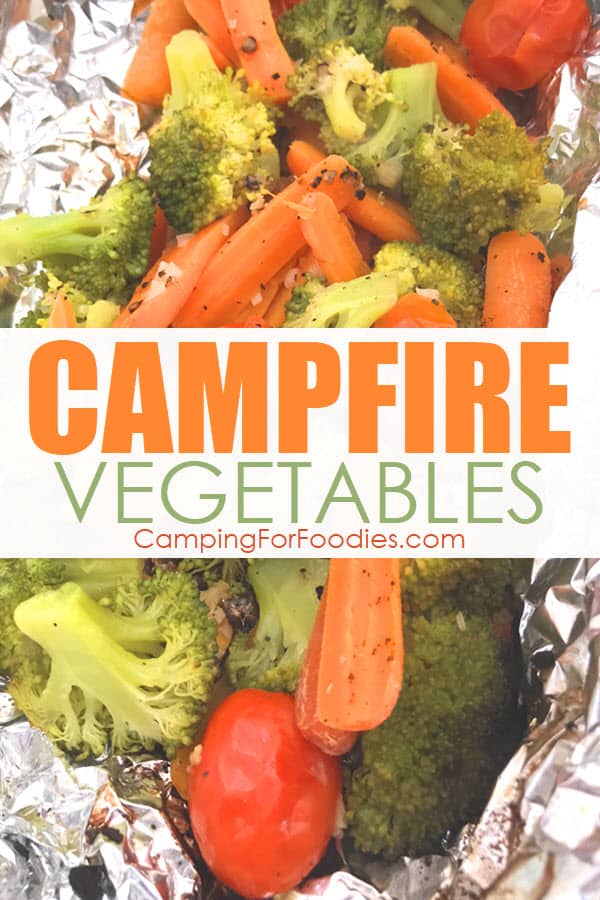 ---
---
Campfire Glazed Grilled Carrots
Talk about a clean and refreshing spin on carrots! I make these glazed carrots using my little Smokey Joe and charcoal as well as using a camp fire and mesquite firewood.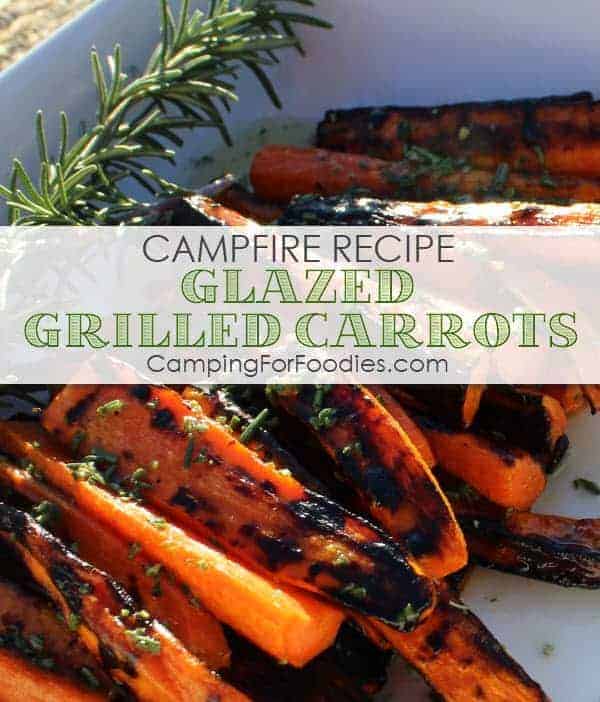 Camp Casual Bowl & Servers Set
---
Grilled Potato Wedges Camping Recipe
I make these grilled potato wedges using a little Smokey Joe grill as well as directly over a fire using a grill grate and creating a "lid" with foil. This is one of those recipes that can go with tons of main courses including grilled meats and sandwiches.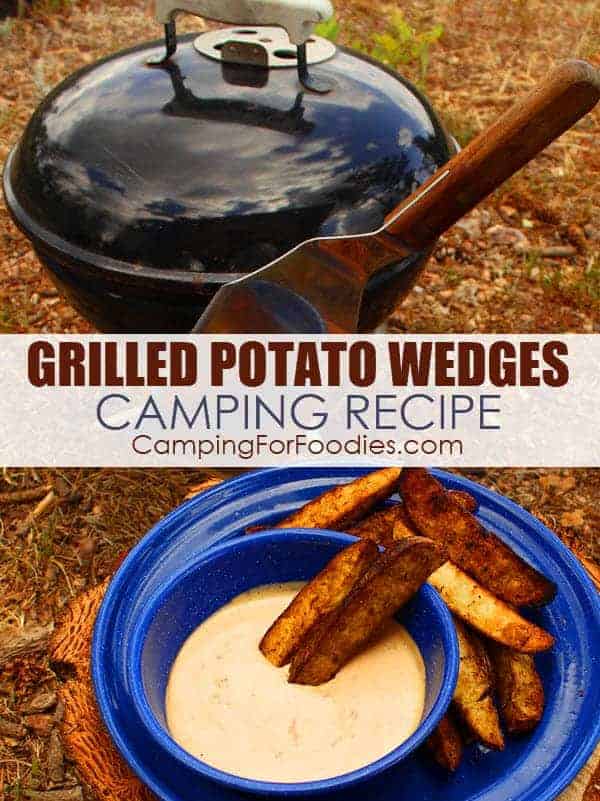 ---
Side Dishes
---
Sauce Recipes
Kansas City Style Homemade Old Fashioned Molasses BBQ Sauce
If you are grilling meat over a bed of coals made from a good-flavored hardwood, like oak or mesquite, jazz it up a bit by slathering some homemade BBQ sauce on the meat just before you take it off of your grill grate. The sauce will caramelize … but don't apply the sauce too early or the sugar in the sauce will cause it to burn. The bold flavors in this sauce come from the molasses, honey, brown sugar and chili powder. It is sweet, tangy and has a hint of spiciness.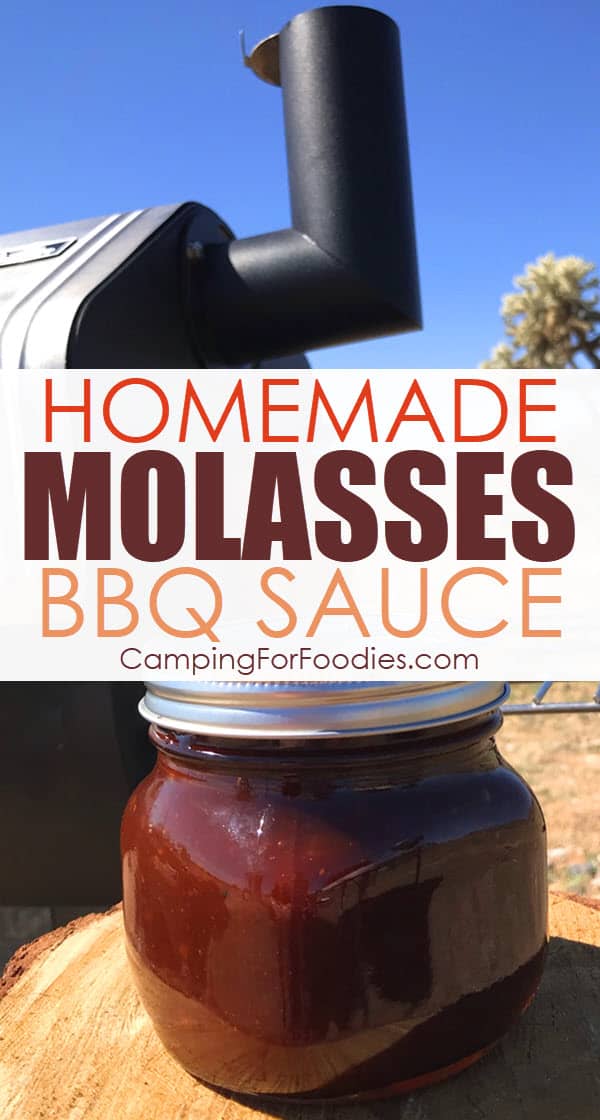 ---
Dinners
Chicken Recipes
Dutch Oven Chicken And Potatoes
This is a really quick meal to prep … it cooks in about 30 minutes … and … it has amazing flavor with chicken, potatoes and carrots all in one pot. So, put this on your menu soon! The secret ingredient that adds a ton of flavor with minimal work … a little bit of bacon.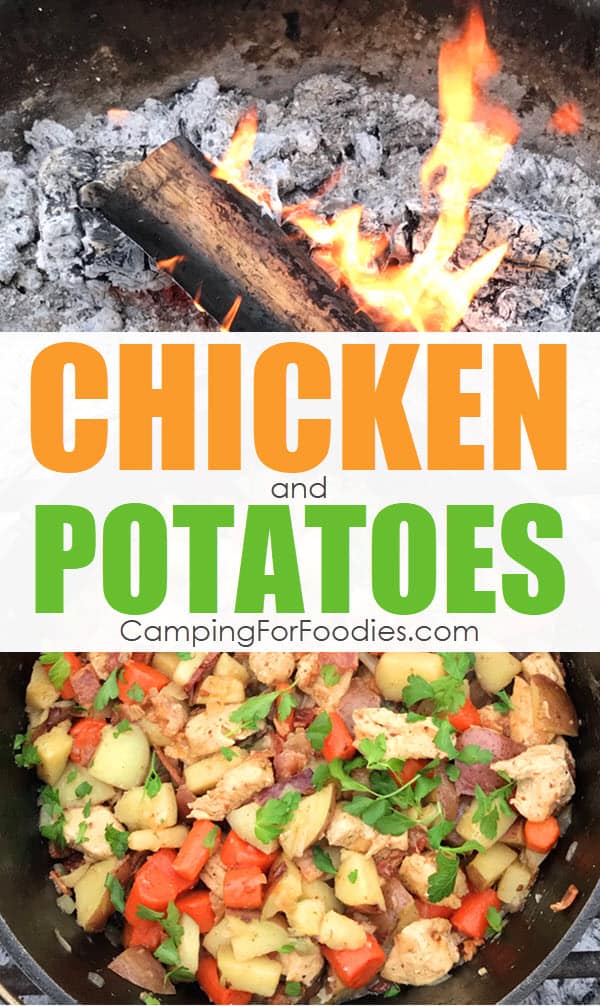 ---
Dutch Oven Chicken Pot Pie
This warm and hearty chicken pot pie comfort food is super easy to make. You don't have to chop the veggies because you use a package of defrosted mixed vegetables and the upper-crust is made with refrigerated biscuits.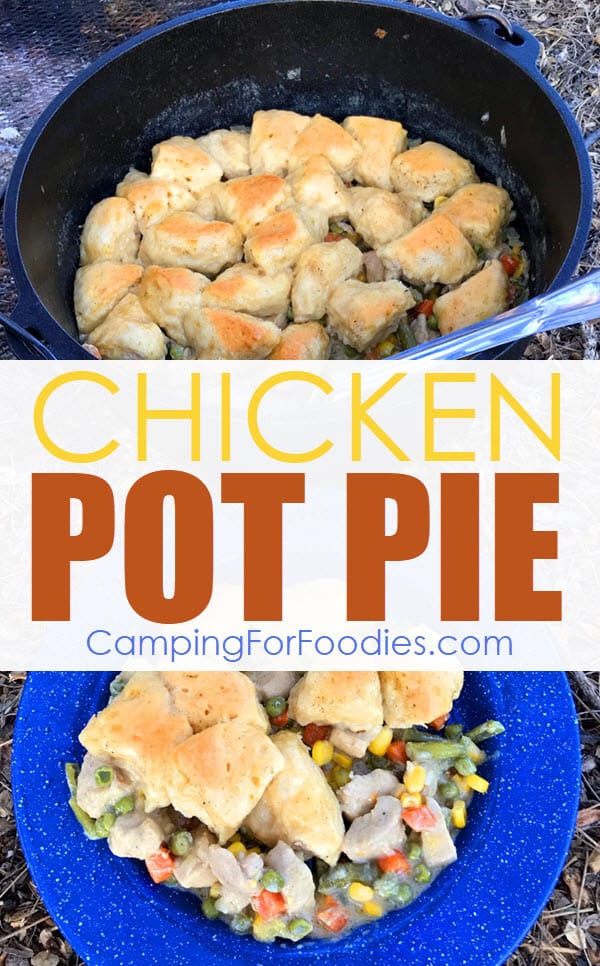 ---
Easy Dutch Oven American Chinese Chop Suey
Don't you just love making meals with veggies being part of the main dish? This chop suey is packed with fresh carrots, mushrooms, celery and onions … swimming in a simple sauce made from readily available ingredients you find in your neighborhood grocery store. Pick up a package of fortune cookies and you'll feel like you are dining out at your favorite Chinese restaurant when you are out in the wild!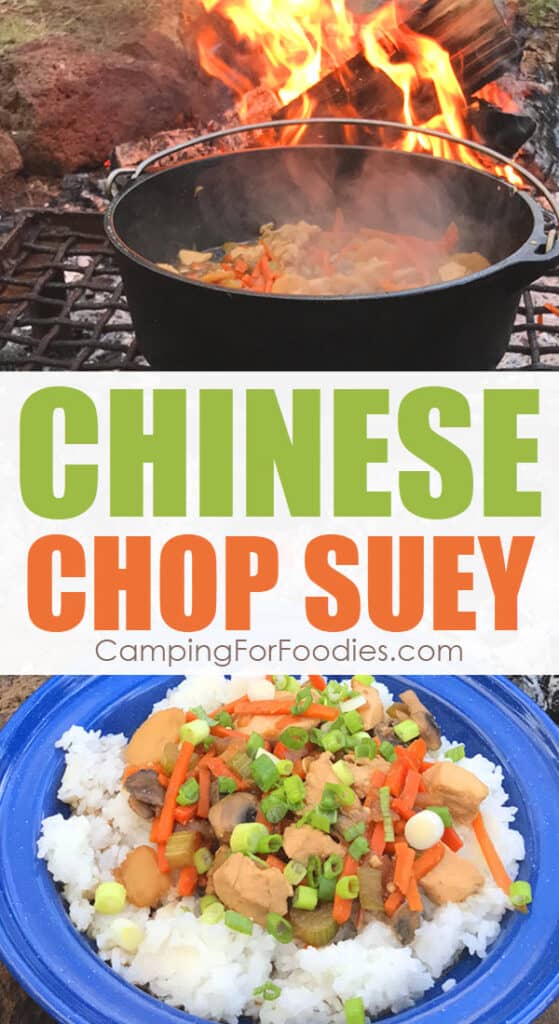 ---
---
932°F Heat Resistant Leather Long Sleeve Insulated Grill Gloves
---
---
Camp Oven Chicken Curry
The curry and coconut milk do most of the work to bring big flavor to this almost-gourmet cast iron dinner!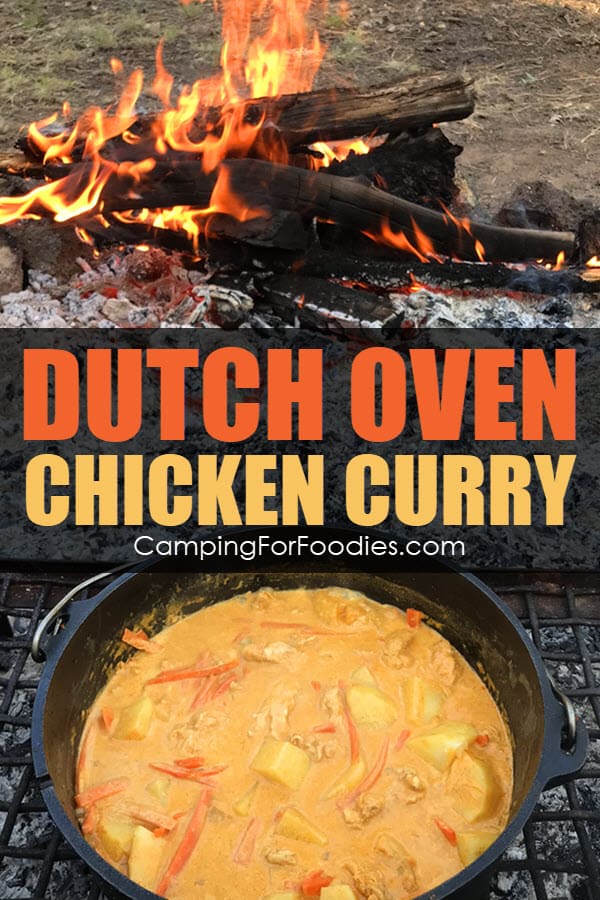 ---
Chicken Shish Kabobs
The great thing about grilling kabobs is that they can be cooked over a camp fire or using camp grills with propane or charcoal!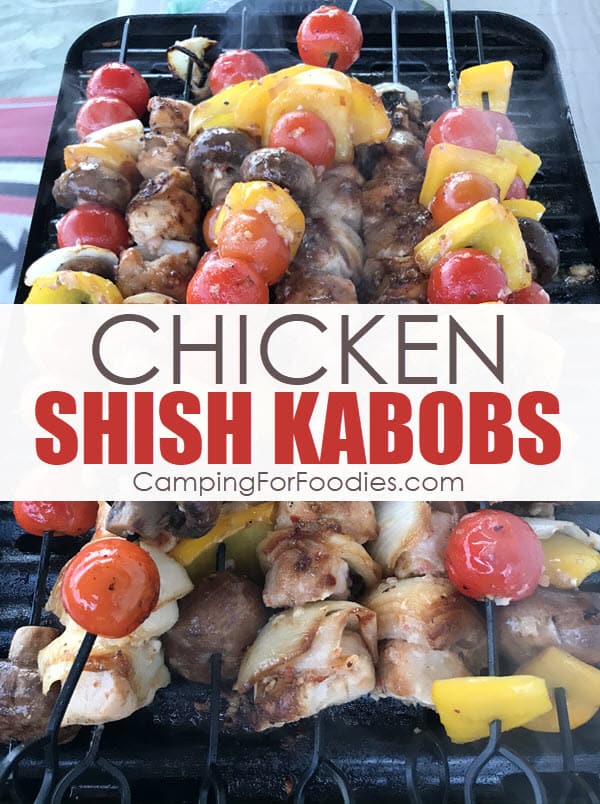 ---
---
---
Dutch Oven Thai Campfire Chicken Recipe
I love doing "dump and cook" meals on busy camp days! This is one of my prep-ahead and freeze recipes that just needs to be defrosted and cooked at the campsite. You won't believe the layers of flavor in this Thai chicken dinner!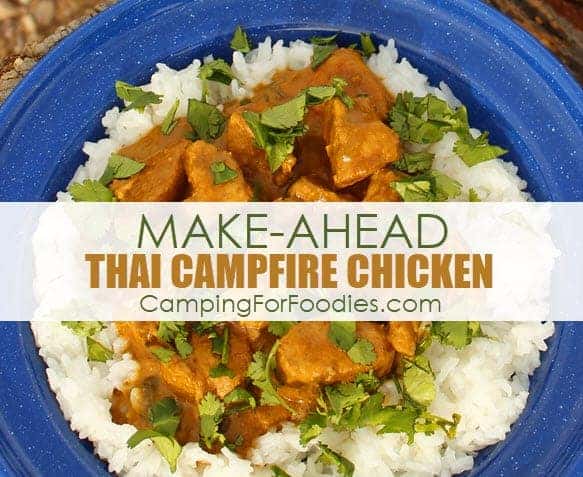 ---
Grilled Greek Pita Sandwich Recipe
These chicken pita sandwiches are packed with Greek flavors. Most of the recipe can be made ahead so you just have to grill the chicken and heat the pitas over your fire … dinner will be on the table in about 30 minutes!
---
Italian Chicken Cacciatore Dutch Oven Camping Recipe
Chicken is a great way to "healthy-up" Italian meals rather than using a sausage-based meat sauce. This Italian chicken cacciatore can be made onsite or can be prepped at home, placed in a freezer bag and then defrosted and cooked at the campsite over a nice fire!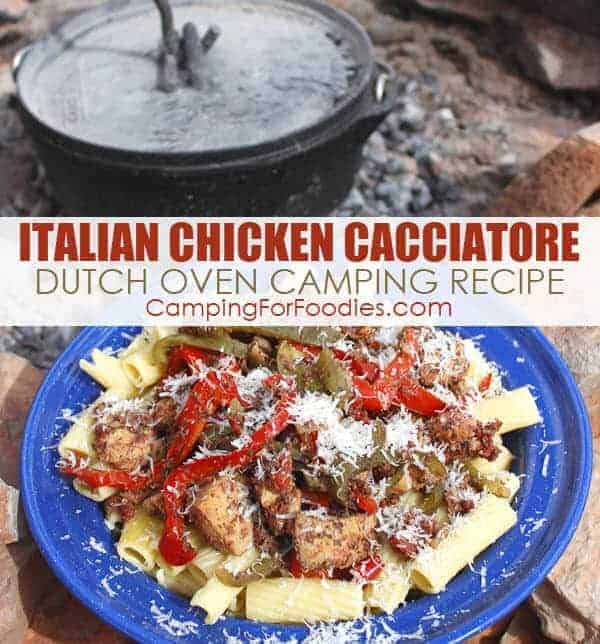 ---
Middle Eastern Inspired Chicken Dutch Oven Camping Recipe
When you want some international flavors on your camp menu, try this Middle Eastern inspired chicken. You make it in a cast iron Dutch oven and can use a camp fire or camp stove as your heat source for cooking this camp dinner meal in about 15 minutes!
---
---
Cast Iron Skillet Chicken Breast Recipe
The beauty of cooking with cast iron skillets is that you can use them anywhere! Campfires or camp stoves are great for this yummy chicken dinner with Mexican flavor profiles. The meal is complete with black beans, tomatoes, corn, avocado and cilantro!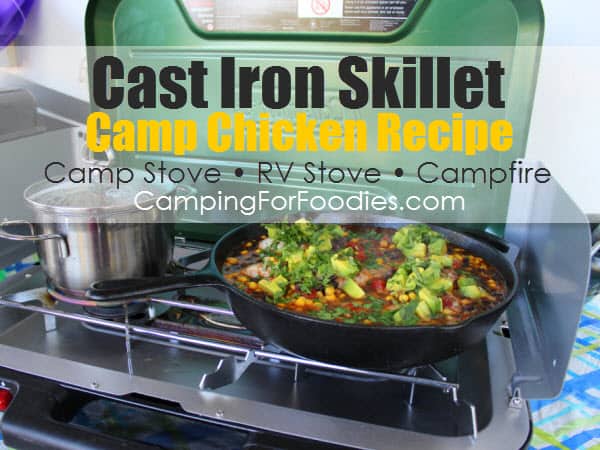 ---
Beef Recipes
Dutch Oven Beef Sandwiches
Don't let the short 3-ingredient list fool you … these shredded beef sandwiches are delicious! The pepper juice is tangy and provides a mild heat to this fork-tender roast beef that is cooked low and slow in your camp Dutch oven.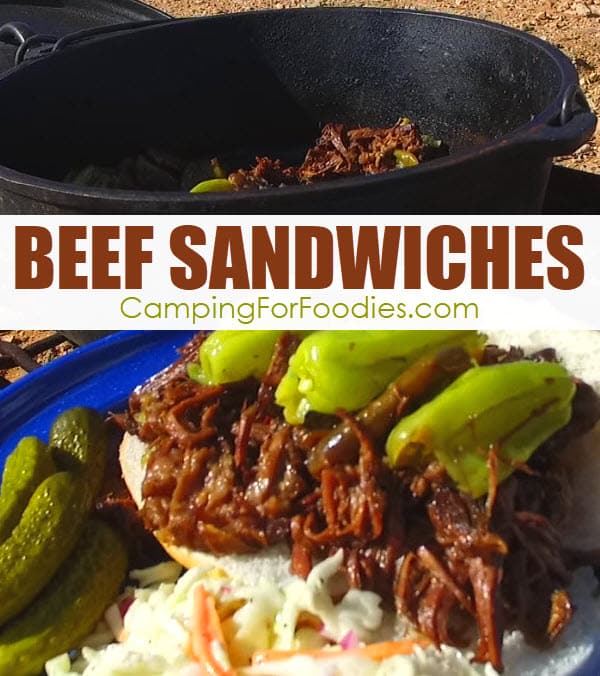 ---
Dutch Oven Steak
Marinating does wonders for tough cuts of inexpensive steak! Not only will this simple marinade make these flank steak strips tender … they are packed with amazing flavor too! The fingerling potatoes feel fancy and are totally delicious served with the sauce.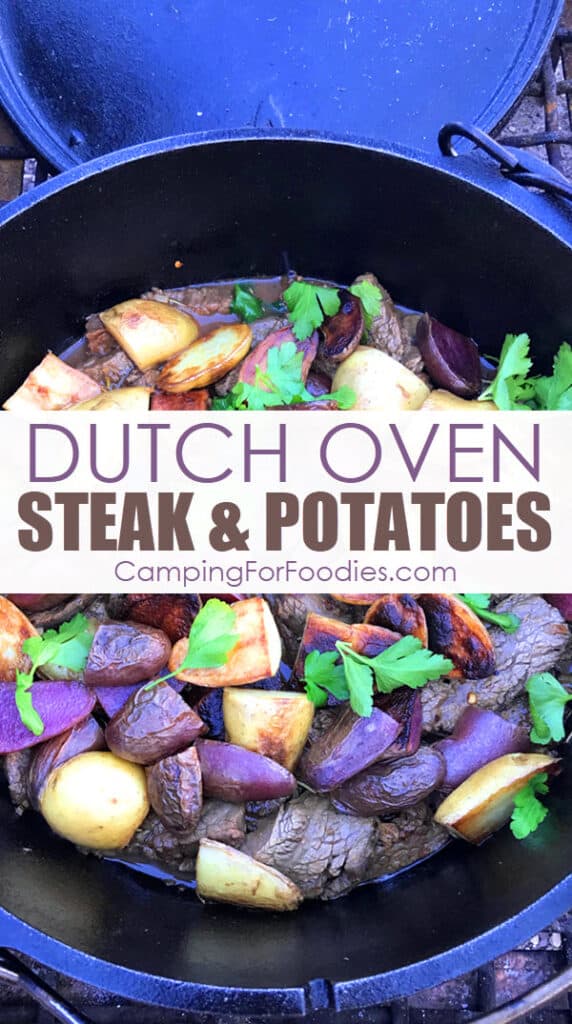 ---
---
Campfire Hobo Stew Recipe In Foil Packets
Setting up an ingredient bar guarantees that everyone will love their personal hobo stew! Each hungry camper can add the ingredients they like and avoid those they don't … making this one of the most popular recipes you'll ever serve!
---
Camping Dutch Oven BBQ Ribs Recipe
Want to spend a lazy day around camp periodically tending to one of the most AMAZING recipes you will ever taste? These BBQ ribs might make you lick your fingers!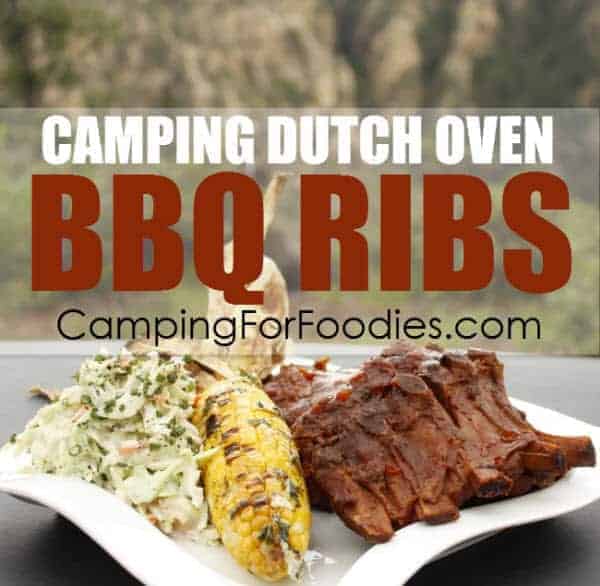 ---
---
Pork Recipes
---
Dutch Oven Sausage
With 5 minutes of prep time, you can have this one pot dinner cooking over your campfire or camp stove!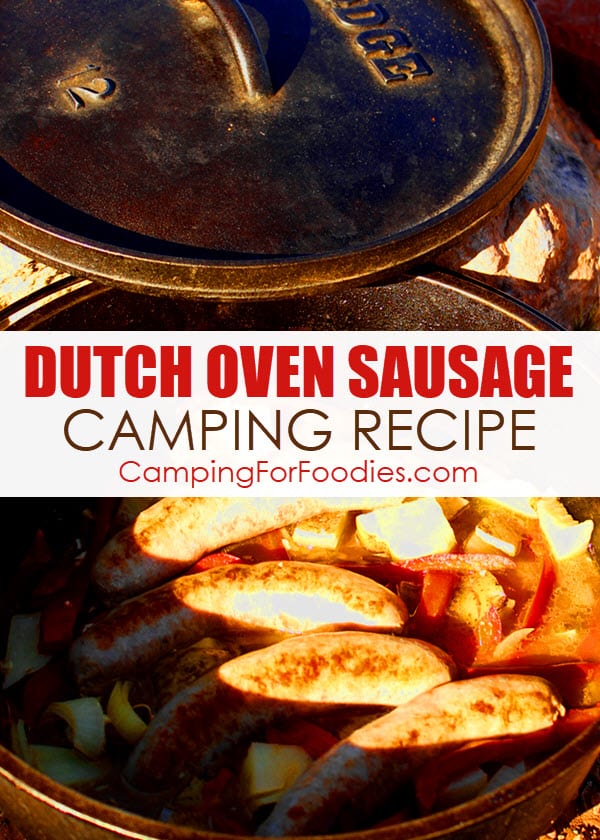 ---
Dutch Oven Pork Chops And Rice
Don't you just love one-pot camping meals? These pork chops are cooked with rice, along with some onion, garlic, oregano, bell pepper and tomatoes to create a yummy meal with mild Italian flavors.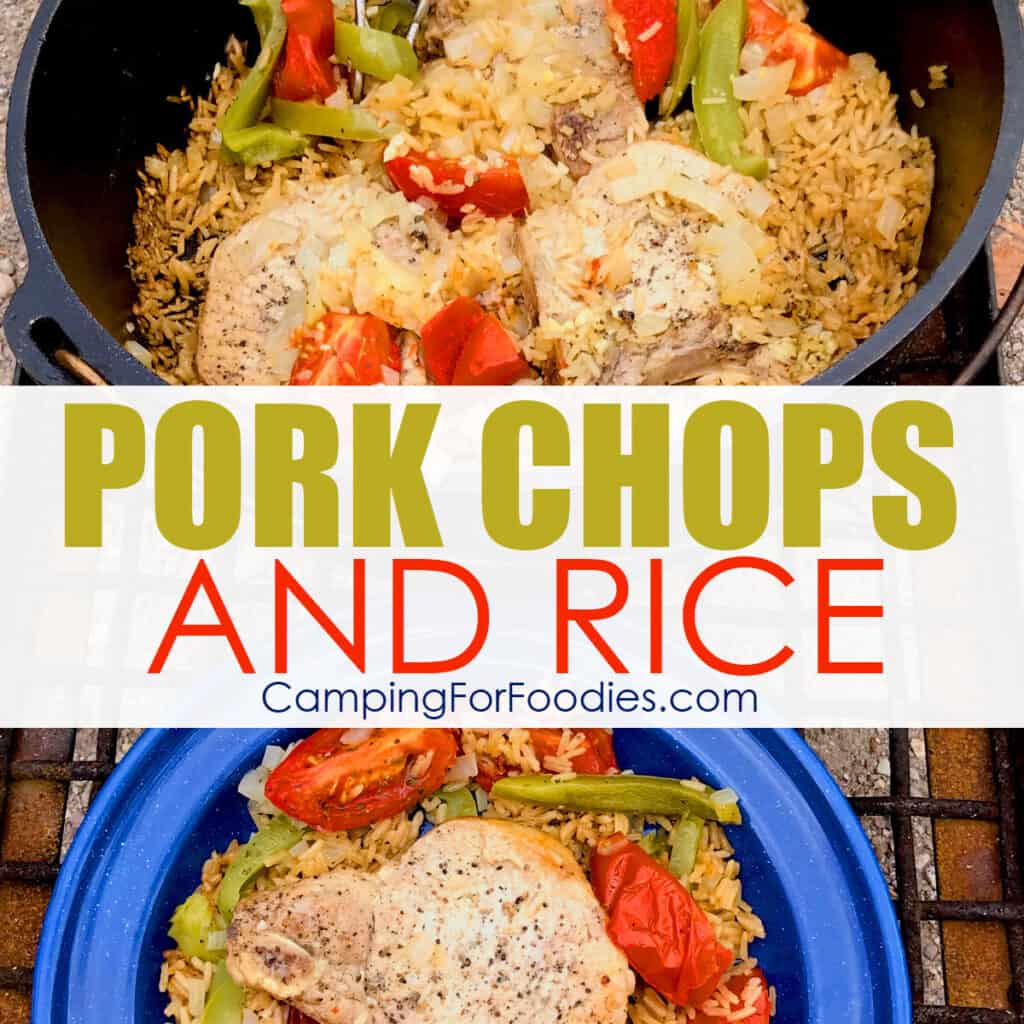 ---
Seafood Recipes
Grilled Halibut Fillet Camping Recipe
Oh, my … the soy and garlic take this grilled fish OVER THE TOP! I make this grilled halibut using my little Smokey Joe and charcoal as well as using a camp fire and oak firewood.
---
---
---
One Pot Cast Iron Fish Camping Recipe
I love recipes that can be made over a camp stove if I need to change my cooking method during times of dry conditions and fire restrictions. This one pot fish recipe easily adapts for cooking over different heat sources and the Spanish flavor influences are a yummy twist to fish dinners!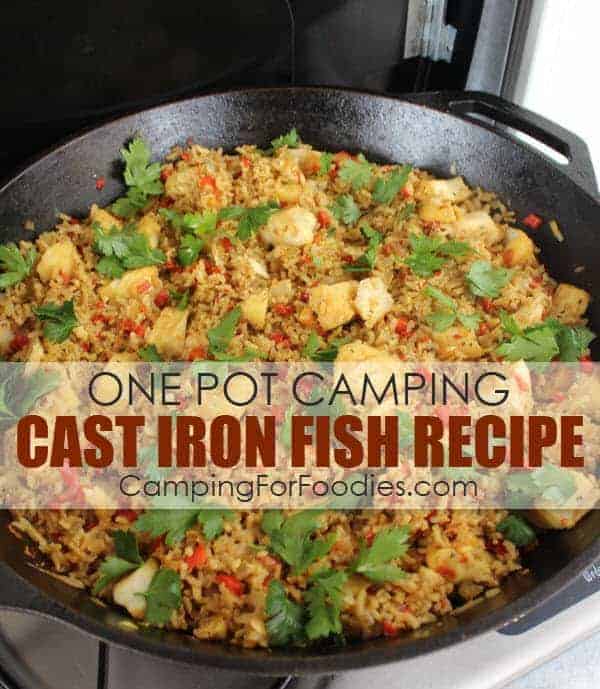 ---
Easy Grilled Mahi Mahi With Mango Salsa
When you want to bring the tropics to your campsite, try this Mahi Mahi dinner. There is a touch of heat in this slightly sweet salsa. You can grill the fish over your coals using a cooking grate brushed with oil so the fish doesn't stick. The firm texture of mahi is great for grilling because it doesn't have a tendency to fall apart like flakier types of fish.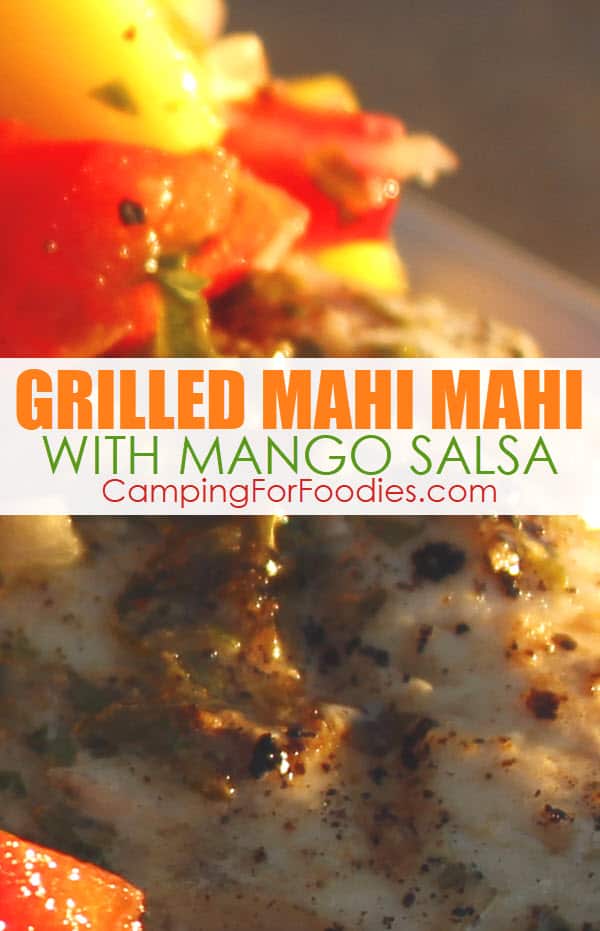 ---
Avocado Spinach Salad With Grilled Shrimp
We don't eat salad as a main course often but the grilled shrimp turns this recipe into a fresh summertime feast! There are amazing flavors that come from combining citrus and avocado with a simple homemade dressing. Make sure to use a grill basket so you don't drop any of these little lovelies into your campfire.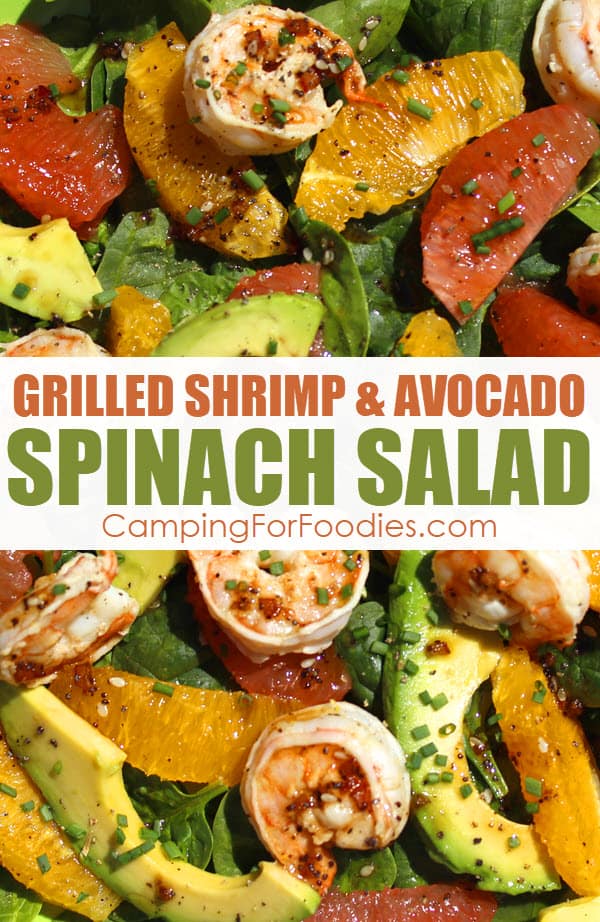 Campfire Basket Grill With Long Handle
---
Turkey Recipes
---
Pasta Recipes
Dutch Oven Chili Mac
Using macaroni along with beef, beans, tomatoes and cheese makes a flavorful and frugal one-pot camping meal. This recipe is quick to prep and make at camp but it also works well if you make it at home and just reheat it over your campfire.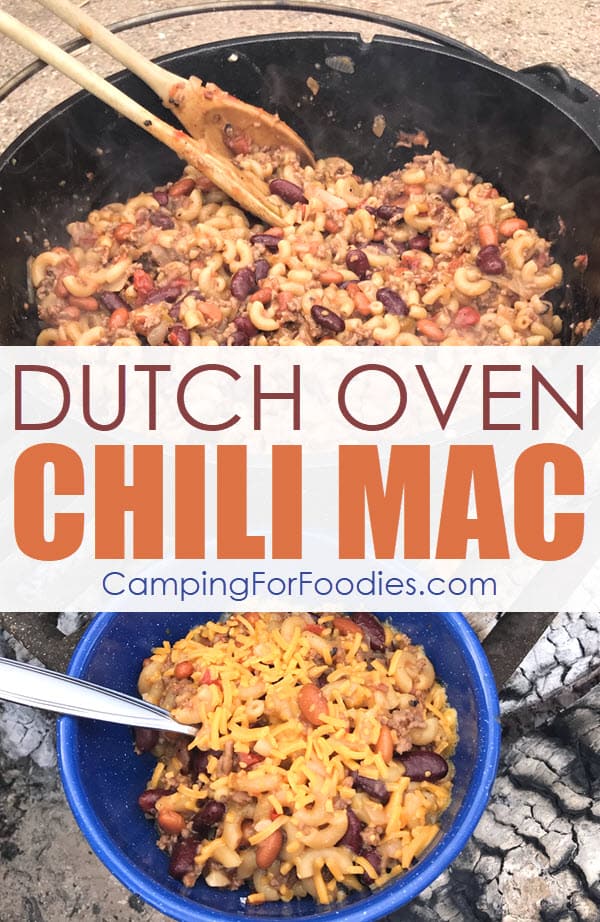 ---
---
Dutch Oven Pasta Stuffed Manicotti
You can bake this manicotti using coals from your fire or charcoal briquettes. It makes a restaurant-quality meal but only requires minimal effort!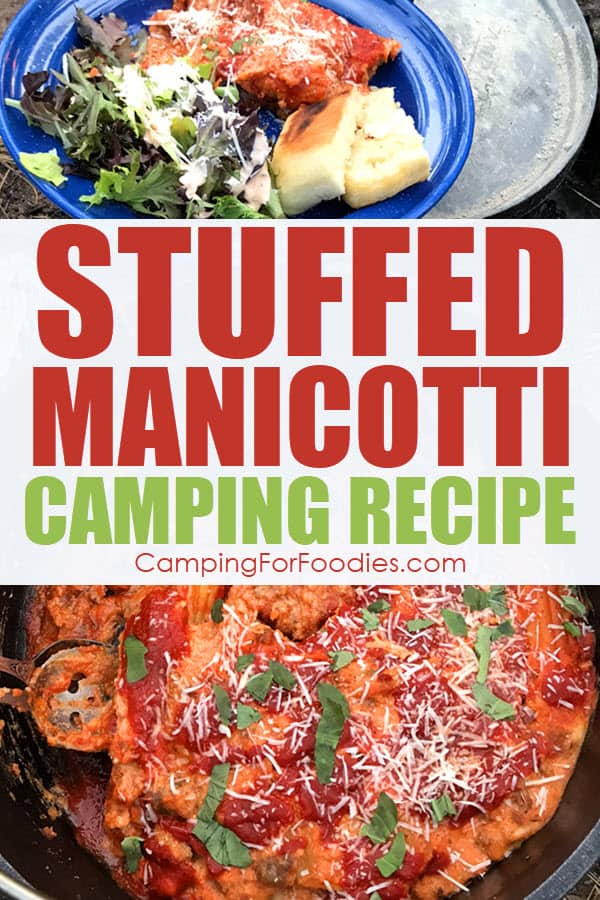 ---
---
One Pot Creamy Cajun Chicken Camping Pasta
No need to drain pasta water when you cook this farfalle directly in chicken broth! Mix in some pre-cooked chicken, fire roasted tomatoes, cream cheese, jalapeno pepper and some seasonings and you have a yummy and quick one pot pasta dinner. This is a great recipe to make when you spend your day away from the campsite and come back for a speedy but satisfying meal.
---
Shrimp In Garlic Wine Sauce Over Pasta
This shrimp and pasta dinner is a garlic-lovers dream! It features a butter sauce with garlic and white wine. If you have both pots cooking at the same time, your dinner will be on the table in 30 minutes or less!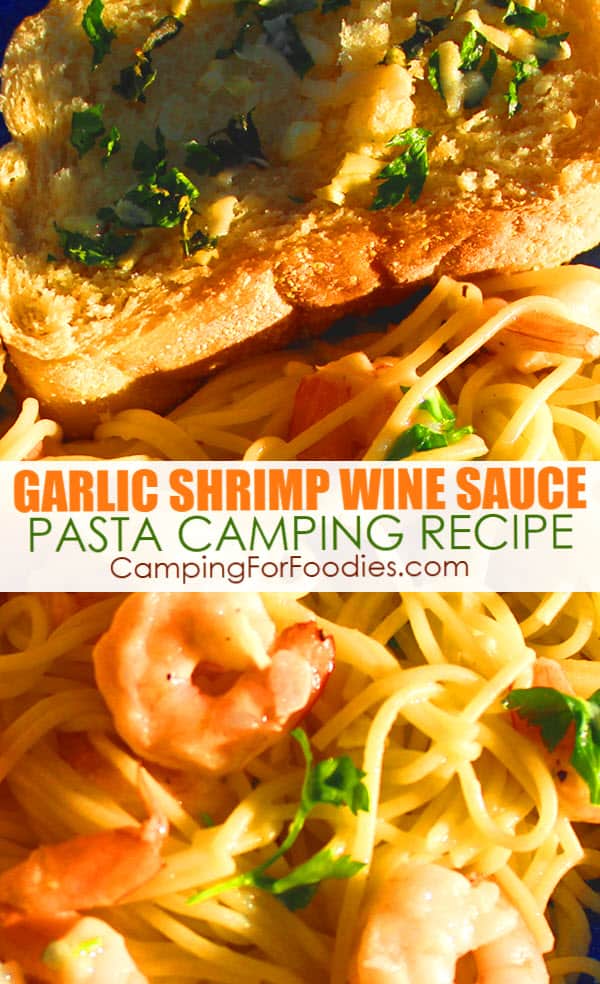 ---
Dutch Oven Spaghetti And Meatballs
Enjoy a glass of wine as these homemade drunken meatballs simmer in a red sauce made extra special with a splash of your favorite red wine. This is a bit more complicated and time consuming than the average camp recipe but the results are worth it!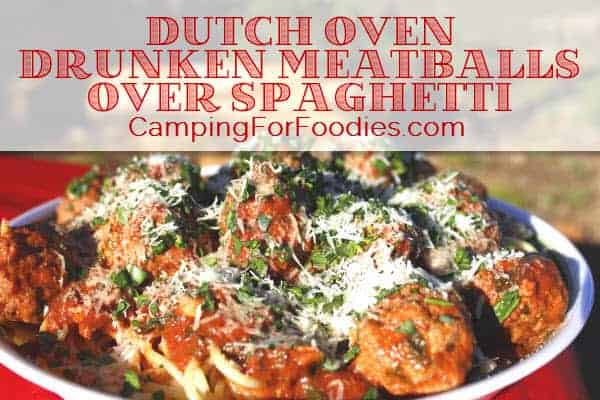 ---
Flatbread And Pizza Recipes
---
Dutch Oven Pizza Camping Recipe
How fun is pizza at the campsite?!? One of our really unique recipes uses batter to make a simple crust rather than dealing with dough! Add this simple pizza to your next camp dinner menu plan!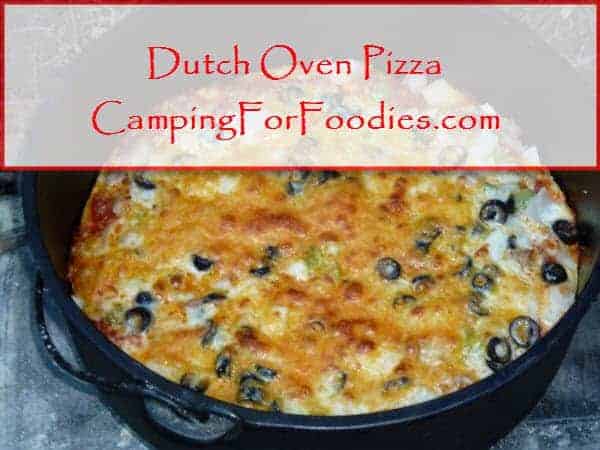 ---
---
Desserts
---
Dutch Oven Blueberry Cobbler
This easy blueberry cobbler tastes FANTASTIC because it uses fresh blueberries and simple ingredients to create a flavor explosion! You can bake it with camp fire coals, charcoal briquettes or even using a propane camp stove!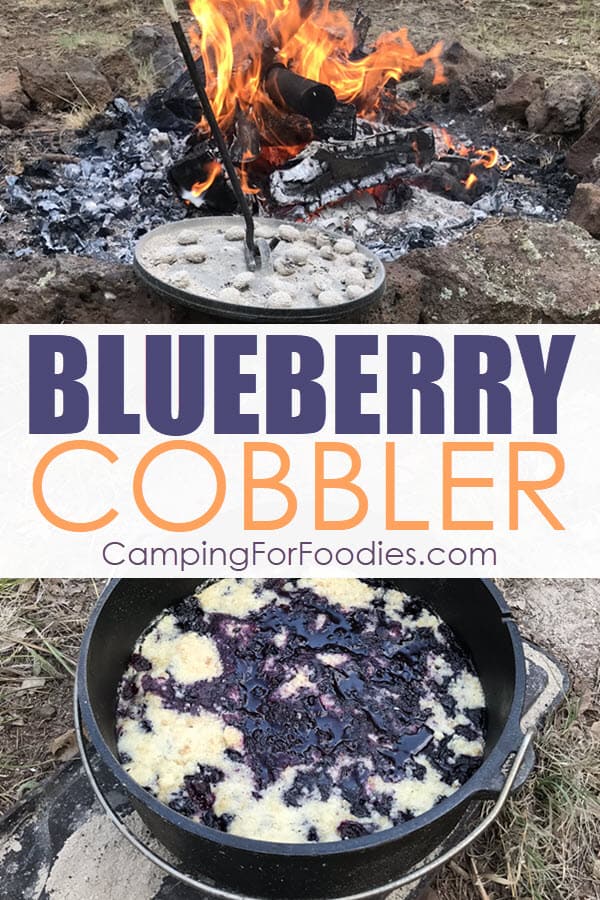 ---
Dutch Oven Carrot Cake
Use camp fire coals, charcoal briquettes or even a propane camp stove with a dome and heat diffuser plate to make this yummy, moist, from-scratch carrot cake dessert in your camp Dutch oven.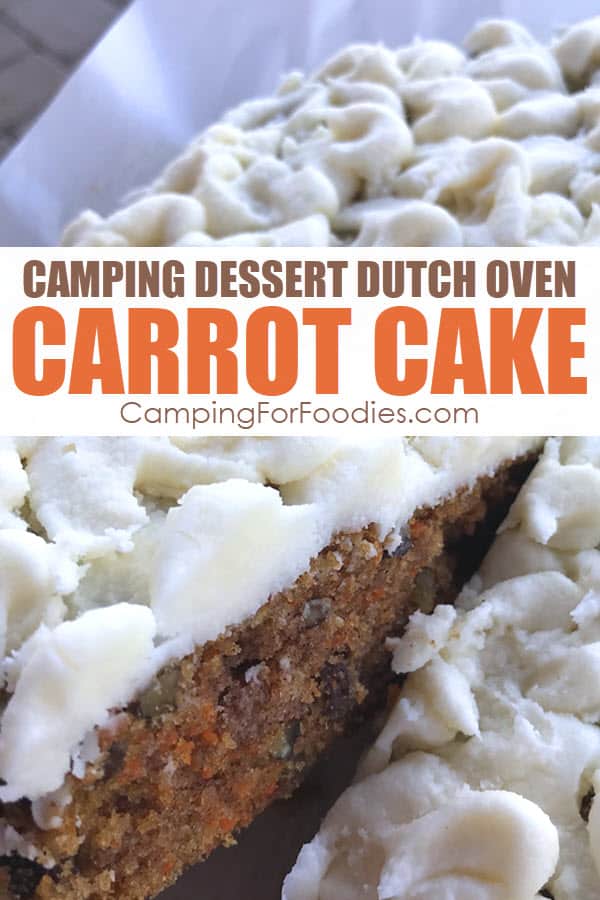 ---
Easy Dutch Oven Pineapple Upside Down Cake Camping Recipe
This easy pineapple upside down cake brings back fond family memories! When we have our annual combination birthday celebration (because 5 of our family members have birthdays within one month) we don't always agree on the menu. But, this yummy dessert actually was a unanimous vote! It can be baked with coals from a fire or charcoal briquettes.
---
Campfire Smores Recipes: 10 Mouth-Watering Smore Variations
Could any camper even think about camp recipes without the image of a sweet and gooey smore coming to mind? You could stick with the traditional or try one of our 10 mouth-watering smore variations (just for the record, Tropical Therapy is my personal favorite!)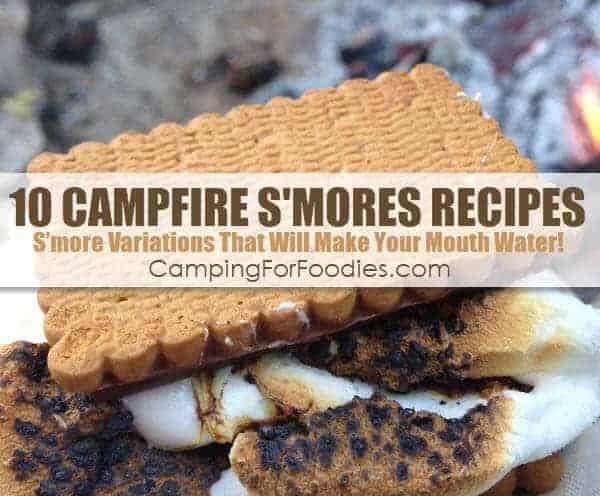 ---
Drink Recipes
Campfire Hot Cocoa
On those cooler camp trips, this hot cocoa just might become one of the most requested recipes you create. It is so cozy to sip a cup of cocoa around a crackling fire!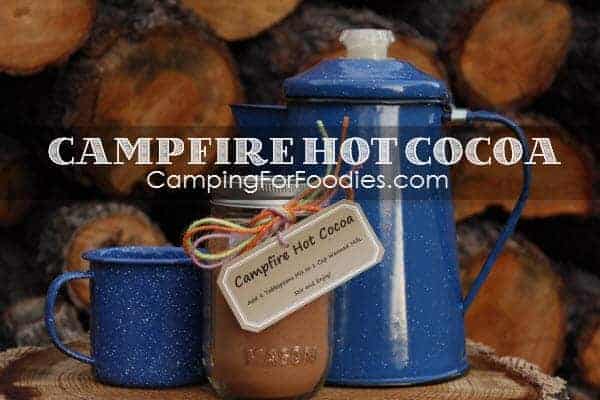 ---
Tips On Cooking Campfire Meals
How To Start A Campfire
You can't cook your recipes unless you start your fire … and … for some of us, that can be a challenge! LOL Here are tips to help you start your campfires in any location and in any weather conditions.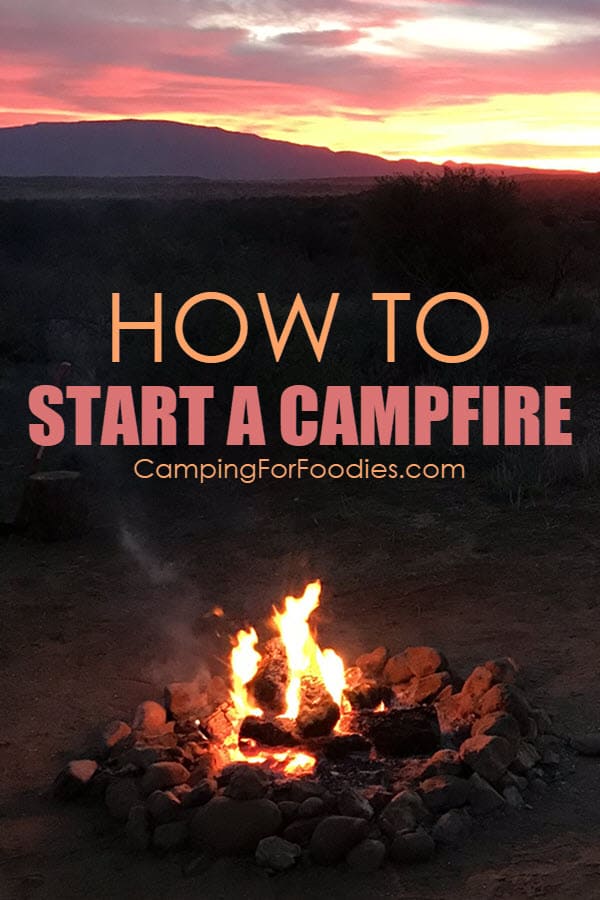 ---
Campfire Cooking Tips
From setting up your fire for cooking to mastering heat control over an open fire … these tips will help you become an awesome cook!
---
Campfire Cooking Equipment
The right cooking equipment will make cooking easier and your meals taste better … we'll show you the best tools for cooking over a campfire!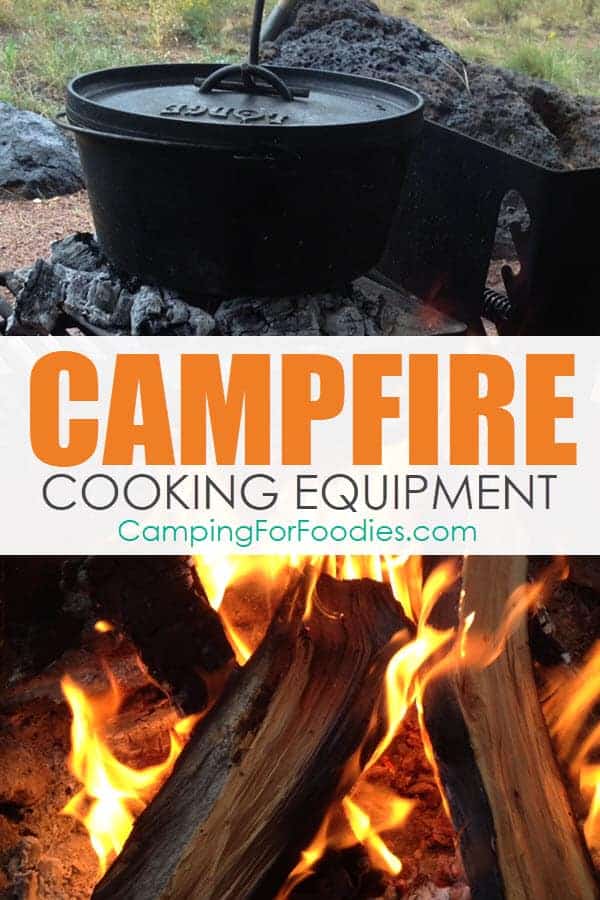 ---
How To Use A Dutch Oven
Many meals are prepared in cast iron Dutch ovens. Knowing how to use your gear will ensure you have excellent results when you cook your recipes!
---
More Quick And Easy Camp Food Options
---
---