The US airline segment has seen an astonishing recovery in 2021, despite serious concerns for its survival after a terrible 2020 that saw traffic drop by up to 90%.
Airlines are on course for a better 2022 and, according to projections from Phocuswright's latest travel research report US Airlines Market Report 2021-2025is expected to exceed 2019 levels by 2023.
The segment regained share after a pandemic crisis in 2020 and now accounts for 37% of gross bookings in the US travel market, compared to 51% for hotels (see figure below).
And after?
Airlines must invest heavily in technology to attract the post-pandemic traveler. In addition to attracting travelers with improved merchandising, they need to improve self-service features on the mobile app to avoid stressing the call center as changes and cancellations multiply.
They must also learn to catch up with demand faster, including staffing flights and adding routes and capacity as needed if they are to remain profitable.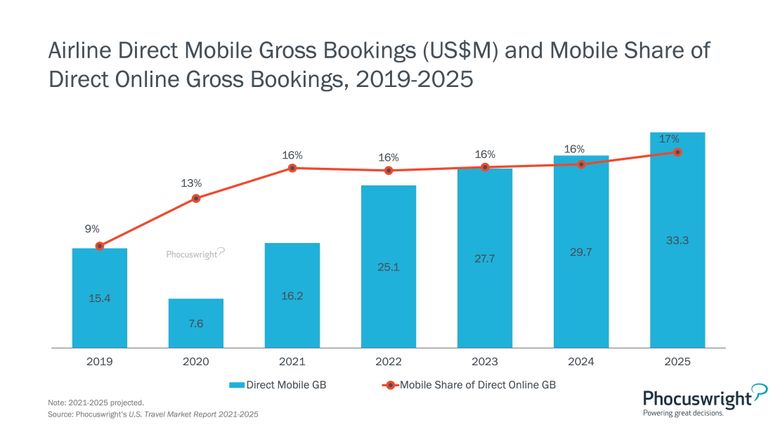 Achieving sustainable development goals and reducing CO2 emissions are also priorities for airlines. In March 2021, major US airlines agreed to commit to eliminating net carbon emissions from their operations by 2050. In November, United claimed to be the first airline to operate a flight powered 100% by sustainable aviation fuel (SAF).
Airlines have ambitious goals for 2022 and beyond, but they cannot do it alone. Partnerships, like the one formed by American, Alaska and JetBlue Connected in 2020, can offer travelers more routes.
Consolidation is also likely: in February 2022, Frontier and Spirit announced their intention to merge to create the fifth largest US airline. The battered airline industry should eventually pull itself together, but it will take a concerted effort from all airlines and industry players to get there.
There are key developments in revenue management, lingering confusion marring an international return, and modern retail that travel companies will need to understand to predict the impact of the airline market on their business.
Read more…
In addition to market size and distribution landscape, airline performance, positioning and innovation will equip your business with the tools for the future.