Amazingly Delicious Dutch Oven Pork Chops Campfire Recipe
This is one of our Dutch oven campfire recipes that stays at the top of the "most requested" list!
The combination of slightly sweet and salty flavors make this easy Dutch Oven Pork Chops Campfire Recipe a fantastic main dish served with a side of rustic mashed potatoes and fresh green beans.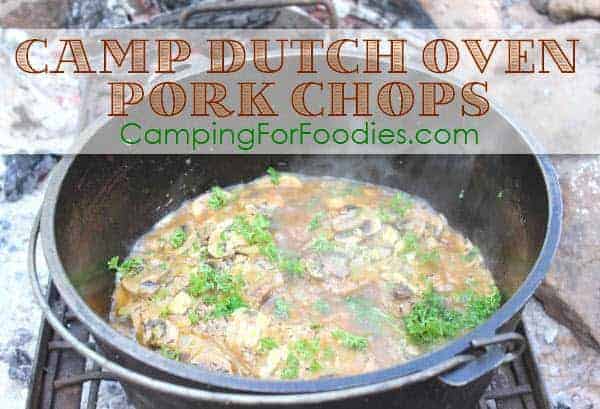 Psst we're compensated…see our disclosures.
Easy Dutch Oven Pork Chops Campfire Recipe
The secret to making really good pork chops in Dutch ovens is using bone-in cuts. The amount of flavor that comes from the bones does a LOT of the heavy lifting when it comes to adding so much taste.
And, if you have GF dietary restrictions, you'll be happy to know this is one of our gluten free camping food recipes.
---
Campfire Dutch Oven Pork Chops Cooking Tips
Step 1. Prepare Your Campfire
If you are cooking these pork chops over a campfire that does not have a built-in grate, you can use a folding steel campfire grill to support your oven over the heat.
Camp Chef Lumberjack Over Fire Grill
---
When we are camping during times of fire restrictions and are limited to cooking with propane, we make these pork chops as one of our camp stove recipes using propane as the fuel source.
If you need tips on How To Camp When Camping Fire Restrictions Are Activated, we have them here.
Step 2. Brown The Pork Chops
Dutch Oven Camp Cooking Tip: The entire surface area of meat must make contact with the Dutch oven to evenly brown it, so just brown the meat in smaller batches if you can't fit it in the oven at the same time.
Use extra long BBQ tongs to stay a safe distance from the campfire. It's more comfortable to stay further away from the heat of the campfire when cooking with longer campfire cooking equipment tools.
Step 3. Add Remaining Ingredients And Simmer Over Campfire
A Camp Dutch Oven Lid Lifter allows me to stay further away from the heat of the campfire when cooking this campfire pork chops recipe.
I remove the camp Dutch oven from the campfire as I am browning the meat and adding the other ingredients.
Lodge Camp Dutch Oven Lid Lifter
Step 4. Garnish And Serve
Side Suggestions: Mashed potatoes and fresh steamed green beans.
When this camp Dutch oven pork chops recipe is finished cooking, you will have flavor-packed pan juices!
I spoon it over the meat and mashed potatoes.
If you want to make a thicker gravy, just remove the pork chops from the Dutch oven and whisk a little flour into the juices, cook until desired thickness.
---
Similar Campsite Recipes
Enjoy this Campfire Roast Beef that has the meat and potatoes cooking in one pot. The slightly spicy Mexican flavor profile is easily achieved with the canned fire roasted tomatoes and green chile peppers with a bit of Mexican seasoning blend.
This yummy Dutch Oven Pork Chops And Rice recipe cooks the entire meal all in ONE POT! The mild Italian flavors come from simple ingredients like bell pepper, onion, garlic, oregano and tomatoes.
If you enjoy meat and potato kinds of meals, try this Grilled Flat Iron Camping Steak Recipe that takes only 5 minutes to prep and just a little longer to cook. The secret to making this usually tough cut of meat very tender is the simple homemade marinade.
Make a quick sauce to marinate the chicken then baste it while it is cooking. You'll love this Simple Grilled Dijon Chicken With Garlic And Jalapeno Recipe.
See all of our yummy breakfast, appetizer, dinner, side and dessert Dutch oven recipes for camping!
---
Print This Dutch Oven Pork Chops Campfire Recipe
Prep Time 15 minutes
Cook Time 50 minutes
Total Time 1 hour 5 minutes
Ingredients
4 tablespoons vegetable oil
Salt and pepper, to taste
6 bone-in center cut pork chops (1/2 inch thick, about 3 pounds total)
1 cup chicken broth
1 cup cider vinegar
1 (8 ounce) package sliced fresh mushrooms
1 medium onion, sliced thin
1 tablespoon brown sugar
6 garlic cloves, peeled and smashed
1 teaspoon dried thyme leaves
1/4 cup chopped fresh parsley
Instructions
Start your campfire or other cooking source.
Heat vegetable oil in bottom of 12-inch camp Dutch oven.
Season both sides of the pork chops with salt and pepper.
Brown both sides of the pork chops in the hot oil in the Dutch oven.
Now add the chicken broth, cider vinegar, mushrooms, onion, brown sugar, garlic and thyme to the camp Dutch oven.
Cover and simmer till chops are tender (about 40 minutes).
Top with parsley for serving.
Recommended Products
As an Amazon Associate and member of other affiliate programs, I earn from qualifying purchases.
Nutrition Information:
Yield:
4
Serving Size:
1
Amount Per Serving: Calories: 249Total Fat: 18gSaturated Fat: 2gTrans Fat: 0gUnsaturated Fat: 14gCholesterol: 34mgSodium: 334mgCarbohydrates: 8gFiber: 1gSugar: 4gProtein: 11g
---
More Delicious Camp Recipes